C
anada-based nonwovens manufacturer Soleno Textiles, in partnership with CTT Group — a Canada-based non-profit organization supporting business development and innovation by providing
technical, commercial and information services to Canadian textile enterprises — is developing an electrically conductive nonwoven textile that will provide heating properties for applications such as automobile seats and apparel. Soleno and CTT debuted the patented technology earlier this month at CTT's Expo Hightex 2008, a Montreal-based exhibition featuring new technological developments in the Canadian textile industry.CTT Group, currently counting more than 250 textile companies as members, has been serving the Canadian textile industry for 25 years. The organization has a staff of 50 textile professionals and houses state-of-the-art textile equipment in 2,000 square meters of laboratory
space.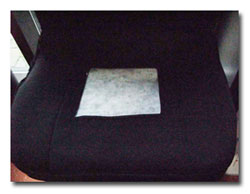 For automobile seating applications, TX Conductor is placed between the seat's padding,
shown, and the upholstery. Heat is delivered via a connection to the automobile's 12-volt power
supply.
Soleno Textiles, part of the Canada-based Soleno Group, was established in 1998 as a manufacturer of needlepunched technical textiles for applications such as civil engineering, horticulture, filtration and industrial felts. The company offers several products through its TX
line, including TX Conductor, the electrically conductive product. A non-heating version of the new textile is already being used in a geotextile application. The heating function has been developed to the point that it can be offered for automobile seats, while that functionality for apparel is still being developed.
According to François Pepin, Soleno Textiles' managing director, TX Conductor originally was developed as an electrically conductive geotextile to be used under a landfill liner to detect leaks. Moisture that may leak through the liner will trigger a response in the fabric, pinpointing the location of the leak so that it can be repaired. But during the research and development (R&D) activities, Soleno and CTT found that the fabric also could provide other functions.
"During R&D, we found that we were able to heat also, and we have continued to develop this branch of the technology," Pepin said.
Textile engineer Aldjia Begriche, project leader at CTT, said TX Conductor will offer a cost-effective, reliable and durable alternative to carbon-fiber-based textiles and other heating technologies currently available for the targeted applications, in addition to saving energy in the automobile seat application. In TX Conductor, conductive fibers and man-made nonconductive fibers are homogenously intermeshed in a three-dimensional, lightweight network, and the textile may be
attached to electrically conductive bands functioning as terminals that are connected to a 12-volt power supply or a rechargeable battery. Begriche also is exploring the possibility of sewing into the textile a conductive thread to serve as the terminal that would connect to the power source.
The proportion of nonconductive to conductive fiber in the textile determines the heating function. "In laboratory testing, we could reach a temperature close to 50°C, but this is too high for some applications," Begriche said, noting the details of controlling the temperature for
apparel applications are still in development.
Denier size also plays a part in the functionality of TX Conductor. The textile is flexible and easily cut with scissors, and the use of man-made fibers eliminates concerns of possible skin or eye irritation and other issues associated with carbon fibers.
When used to heat seats in automobiles, TX Conductor could help reduce a vehicle's energy consumption vis-å-vis keeping the occupants warm, and in addition could have an antistatic function. The apparel application would encompass uniforms for outdoor workers as well as apparel for cold-weather sports and hunting.
Pepin said TX Conductor was very well received at Expo Hightex, with two automotive companies — one in the United States and one in Germany — expressing interest in developing a relationship with Soleno Textiles.
---
For more information about TX Conductor, contact François Pepin (450) 668-2545, fpepin@soleno.com.