G3 Technology Innovations LLC (G3i), Pittsford, N.Y., has developed GreenShield™, a family of multifunctional textile finishes produced according to principles of green nanotechnology, which strives to utilize the most benign chemistries available while minimizing the amount of chemistry required to deliver the desired performance, and uses eco-friendly processes that eliminate waste and reduce energy use.
The company was established in July 2006 by Chief Technology Officer Dr. Joseph F. Bringley, President Dr. Tiecheng "Alex" Qiao, and COO Dr. Suresh Sunderrajan – three scientists who had worked together at Rochester, N.Y.-based Eastman Kodak Co., where Bringley and Qiao had used nanotechnology in the development of solutions for photographic applications, and Sunderrajan had directed the Corporate Venture Capital group. The three decided to form their own company to develop cost-effective nanotechnologies based on environmentally sustainable principles, singling out textile applications as a focus.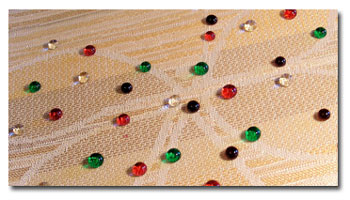 Mimicking the water-repellent, self-cleaning function of a leaf's surface, the GreenShield
finish prevents liquids and stains from adhering to the fabric, causing them to bead up and roll
off the surface.
"We saw some fantastic opportunities in the textile industry to do some interesting work that could have environmental benefits and offer multifunctional coatings as well," Bringley said. Reducing fluorochemical use to provide water and oil repellency in textiles has been a primary
interest because the traditionally-used C8-based fluorochemicals are persistent in the environment and bioaccumulative in the body, and certain versions, such as perfluorooctanoic acid (PFOA), are
possible carcinogens. But, that repellency also could be integrated with other functions in unique finishes produced using technologies Bringley and his colleagues knew from experience, all the while reducing the overall chemistry required to provide those functions.
At Eastman Kodak, Bringley, a specialist in inorganic chemistry, and Qiao, a biochemist, had collaborated to develop materials for cancer diagnosis. "The project involved creating a nanoparticle that could be injected into the bloodstream, and it needed one set of molecules to
fool the immune system and keep the body from rejecting the particle, one set to recognize the difference between a healthy cell and a cancer cell so the particle could bind with the cancer cell, and one to track the particle in the body and report its position," Bringley explained.
"Drawing from our experience in biotechnology, we realized we could develop a technology for textiles using similar concepts, having one set of molecules to bind the particle to the fabric and others to provide water and stain repellency, antimicrobial properties, ultraviolet (UV)
resistance, and flame resistance."
In the GreenShield finishes, the basic nanoparticle is amorphous silica, an inert material that has a well-established use in applications involving direct human consumption, and is generally recognized as safe and approved by the Food and Drug Administration (FDA) and Environmental Protection Agency for such applications. The GreenShield technology involving surface functionalization of inorganic nanoparticles is uniquely different from polymer technologies used traditionally to add performance benefits to textiles, according to Paul Bennotti, G3i's vice
president, marketing and business development.
"The surface functionalization process reduces the amount of fluorochemical needed by up to eight times, and of other chemicals by up to three times," Bennotti said, noting that the functioning chemistry is only on the particle's surface and with GreenShield, the nanosized
particles provide more functional surface per unit weight, which is difficult to achieve in a polymer comprised of long-chain molecules. In addition, it is easier and less costly to build multiple functionality into the silica nanoparticles than into polymer molecules because of the
nature of the chemistry required.
The principles of green nanotechnology begin in the design stage, Bringley said. "We have designed the products up front to be as green as possible, using less chemistry and producing less waste – specifically, less harmful waste. We are using a water-based process that produces an essentially 100-percent yield and significantly reduces the use of volatile organic compounds," he said. The process also is conducted at room temperature, which reduces energy use.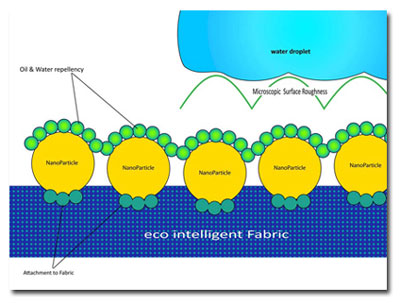 The diagram above shows GreenShield's surface-functionalized silica nanoparticles bound to
Victor Group's Eco Intelligent® Polyester fabric using one set of molecules, while another set
provides water and oil repellency. The nanoparticles provide a micro-rough surface to the fabric to
repel liquids in the same way that infinitesimal waxy bumps provide that function on the surface of
a leaf.
The repellency function follows the principles of biomimicry. "We looked at water repellency in plants, and how we can mimic what nature already has solved," Bringley explained, referring to the principle of micro-roughness exemplified in the water-repellent, self-cleaning function of a leaf's surface, whereby infinitesimal waxy bumps prevent water from adhering, causing droplets to bead up and roll off, cleaning the surface in the process.
The GreenShield line currently includes three products: the basic GreenShield finish offers water and stain repellency; GreenShield BioStat adds a nonleaching FDA-approved antimicrobial to the repellency; and GreenShield FR incorporates a non-halogenated, non-brominated flame retardant (FR) with the repellency. G3i also can customize products to include other specific functions, such as UV resistance or antistatic properties.
The current GreenShield products are made with a C8-based non-PFOA fluorochemical. A GreenShield C6 product made with the C6 version that does not bioaccumulate is undergoing beta testing, and is expected to be commercially available soon.
GreenShield has received two third-party certifications from Emeryville, Calif.-based Scientific Certification Systems: Indoor Advantage™ Gold certification for air quality; and Low Fluorocarbon Treatment certification, a new category created for the GreenShield product.
GreenShield's chemistries also have been assessed by Charlottesville, Va.-based McDonough Braungart Design Chemistry (MBDC), developer of the Cradle to CradleSM Design Protocol for rating the eco-effectiveness of a product.
Canada-based Victor Group Inc., a manufacturer of environmentally sustainable fabrics for contract, residential and outdoor furniture applications, is the first and currently the only vertical mill licensed to apply GreenShield in-house to fabrics. As one of G3i's first customers to
sample GreenShield for in-house application, the company played a key role in validating the finish's fitness for use and now offers GreenShield as part of its Eco Intelligence® Initiatives. Eco Intelligent® Polyester fabrics – described by Victor as the first true technical nutrient
textile in accordance with Cradle to Cradle criteria for closed-loop manufacturing systems – are the first fabrics made from 100-percent recycled polyester processed without using antimony and dyed using fully optimized eco-friendly dyes and chemicals, contain no chlorine or persistent, bioaccumulative and/or toxic substances, and are themselves fully recyclable. Eco Intelligent Polyester fabrics finished with GreenShield carry MBDC's Cradle to Cradle Silver certification, the
second level in a four-tier classification system.
TSG Inc., a North Wales, Pa.-based commission finisher, offers Greenshield on woven contract and residential furnishings fabrics as part of its new Balance™ program that provides environmentally responsible finishing options. TSG also plans to offer the finishes for industrial, nonwovens and wallcovering applications.
---
For more information about GreenShield™, contact Paul Bennotti, (617) 558-3250; paul@sfnano.com; www.greenshieldfinish.com.
August 2008