GlenGuard® FR fabrics from Glen Raven Inc., Glen Raven, N.C., debuted about three years ago to offer comfortable, optimal protection from flash fires and arcing — potential dangers in the oil and gas, electric utility and other such industries. However, these dangers are not limited to industrial situations, and the company now has launched the line to the automotive racing market after showing the fabrics to Terri Popielarz, who races in the USA Modified Series.
"We showed it to Terri, and she said, 'This would be perfect for the racing business,'" said Hal Bates, marketing director, Glen Raven. "So we took a fabric we had created for another market and did the market extension. GlenGuard FR offers not only excellent protection from flame and heat but, because it is so pliable, the fabric protects in a way that doesn't hinder driver flexibility like other fabrics can."
Made of a blend of inherently flame-resistant (FR), solution-dyed Kermel® aramid and modacrylic fibers, the fabrics comply with National Fire Protection Association (NFPA) 70E: Standard for Electrical Safety in the Workplace; and 2112: Standard on Flame-Resistant Garments for
Protection of Industrial Personnel Against Flash Fire. GlenGuard FR equals or surpasses other FR fabrics, including other aramids and FR cottons, in the degree of arc and body-burn protection, and also demonstrates the best protection-to-weight ratio in single-layer garments, according to Glen Raven.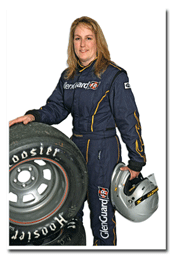 Terri Popielarz, who ranks 8th out of 103 in her class in the USA Modified Series, models
her racing suit made with Glen Raven's GlenGuard® FR.
GlenGuard FR also complies with SFI Foundations Inc.'s specification 3.2A for driver suits, and with Oeko-Tex Standard 100, certifying that it is free of hazardous chemicals. In addition, it has been shown to significantly surpass other FR fabrics on the durability and colorfastness
fronts, withstanding more than 150 launderings and showing no fading over a timed xenon light test. It also holds up in terms of comfort and abrasion resistance.
Glen Raven offers the fabrics in two weights — a 4.5-ounce plain weave and a 6.4-ounce twill. It is the twill that is being offered in the racing market for driver and crew suits, and the number-one color for that market is black. Bates said the complete suit includes a FR net liner inside the GlenGuard FR exterior layer.
In targeting GlenGuard FR to the racing market, Glen Raven also designed a second logo. "We needed something more racy, so we put a flag on it and italicized FR to make it look speedy," Bates explained. "But the oil person sees the brand and recognizes that it's the same protective fabric he wears."
Popielarz, who also reps the fabric to the automotive racing market, said her driver's suit made with GlenGuard FR is the most comfortable suit she has worn; and it is an economical choice because of its solution-dyed fade resistance, inherent FR, and durability and lower cost compared with other aramid fabrics.
"This suit is going to look good and last for years," she said. "And it's inherently FR, which makes me comfortable because I know I'm going to have protection no matter how many times I wash it."
---
For more information about GlenGuard® FR, contact Hal Bates (336) 586-1325, (800) 630-3759.
---
January/February 2008