The current emphasis on all things " green" has directed a spotlight on bamboo as a natural, sustainably produced fiber that offers luster and a luxurious hand as well as superior performance in terms of antimicrobial properties, dyeability, moisture absorption and breathability. The regenerated cellulosic fiber, processed in an environmentally friendly manner similar to that used for lyocell, is derived from the pulp of certain bamboo varieties. Classified as a grass, the plant grows quickly, taking four to five years to reach harvest readiness, compared
with trees that have 15-year growth cycles on average and from which lyocell, rayon and other regenerated fibers are derived.
As part of its range of eco-friendly yarns, Tuscarora Yarns Inc., Mt. Pleasant, N.C., offers a line of Bambu ring-spun and open-end yarns including 100-percent bamboo as well as bamboo blended with cotton, polyester, microdenier fibers such as MicroModal® and/or antimicrobial fibers, among other fibers. Sourced from China, the bamboo staple fiber used in these yarns is derived from plants grown on managed farms that practice sustainable production and ensure preservation of wild
bamboo forests and natural habitats. Tuscarora spins the yarns at its plants in North Carolina.
According to Ronald L. Comer, Tuscarora's director of marketing, the most common blend is bamboo/cotton, which he says has greater dimensional stability than 100-percent bamboo, is more cost-efficient, provides an attractive color variety in heather form and adds a cottony softness to bamboo's slicker hand.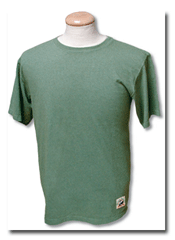 Goodwear produces bamboo/cotton shirts under its own brand as well as for private label and
export customers.
Our most popular product is natural bamboo fiber blended with natural cotton," Comer said, noting other bamboo/ cotton blends contain predyed cotton fibers or Supima® cotton.
He said one customer has specified a yarn that combines bamboo with organic cotton, recycled polyester, flax and other earth-friendly fibers.
"We are exporting these goods to Latin America as well for programs for Armani Exchange, Polo RL and Nikko Hotel, to name a few," Comer said. End-uses include outerwear, T-shirts, underwear, hosiery, towels, denim, sheeting and home furnishings.
Among Tuscarora's customers producing goods in the United States is The Goodwear Corp., an Essex, Mass.-based manufacturer of upscale casual and athletic knit shirts. Goodwear offers several bamboo/cotton shirt styles under its Goodwear® USA brand and also produces shirts for private label and export customers in Japan and elsewhere.
Goodwear's bamboo/cotton shirts contain a 50/50 blend of the two fibers, which offers "the best of both worlds," said Steve Liquori, the company's founder and owner. "It really is a beautiful product," he said, noting its dyeability — Goodwear uses an environmentally friendly
dyestuff — as well as its performance properties.
Bamboo and other eco-friendly fibers seem to be catching on in much the same way organic food has gained popularity. "We're continuing to see growing demand," Comer said of Tuscarora's Bambu line. "We see a bright future for it."
---
For more information about Tuscarora's Bambu yarns, contact Ronald L. Comer (704) 824-7803, rcomer@tuscarorayarns.com. For more information about The Goodwear Corp., contact Steve Liquori (978) 768-7746; steve@goodwear.com.
---