Shape memory technology is the basis for Switzerland-based Schoeller Textil AG's new "smart" c_change™ bionic, flexible, adaptive membrane for sport and leisure apparel applications. Shape memory refers to the ability of a polymer's molecular structure to change shape according to variables imposed upon it and to return to its original shape under set conditions.
Taking its cue from nature – more specifically, from the behavior of a fir, spruce or pine cone, c_change opens or closes in response to changes in external temperature and humidity as well as to changing body heat and perspiration levels. No matter what its state or the conditions
affecting it, the hydrophilic membrane is breathable – or moisture-vapor-permeable – relative to the specific condition, as well as windproof, waterproof, elastic and durable, according to Schoeller.
The membrane is set to a specific temperature range and humidity level, with the original closed, rigid state of the polymer structure occurring at the lower end of the range to hold in body heat during times of inactivity or colder external temperatures. In this state – which
Schoeller compares to the closed state of a pine cone in damp conditions – the reduced moisture vapor permeability allows retention of body heat, creating a comfortable microclimate inside the garment.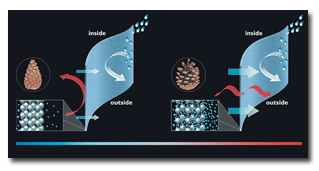 C_change™ functions similarly to a pine, spruce or fir cone. Left: In cool temperatures
and/or periods of low activity, the polymer structure is closed and allows very limited moisture
vapor transport. The membrane holds in body heat while remaining breathable. Right: In warm
temperatures and/or periods of high activity, the structure opens up, allowing significantly more
moisture vapor to pass through and releasing body heat. In all conditions, the membrane remains
wind- and waterproof.
The company notes that tests show the membrane's moisture-vapor permeability increases by 55 percent as the temperature rises from 10°C to 20°C. In addition, tests comparing c_change to hydrophobic membrane systems show c_change allows wicking away of 25-percent more moisture to the outside within the same time period than do the hydrophobic systems.
According to Tom Weinbender, president of Seattle-based Schoeller Textil USA, the company's US subsidiary, c_change is the first membrane technology in the market that adjusts its function to
environmental conditions. "In most membranes, the moisture-vapor transmission rate remains constant no matter what the temperature, but c_change works with the body, like a second skin," he said. "Our whole intention is to make the body more comfortable, and that's where c_change begins to take on some possibilities." He said response to the new membrane has been very positive and noted interest for such applications as golf, sailing, other outdoor activities and even fashion.
Schoeller offers c_change in both two-layer and three-layer fabric constructions – both stretch and non-stretch styles – and in combination with its patented finishes including quick-drying, water-repellent, moisture-wicking 3XDRY®; water-, oil- and dirt-repellent NanoSphere®; and its standard durable water repellent that also is stain-repellent.
In a two-layer construction, the membrane is laminated to the underside of the fabric – including polyester, nylon, wool, cotton and blends of these fibers – using a new method whereby dots of polyurethane are applied between the fabric and the film. In a three-layer construction, c_change is laminated between the face-fabric layer and an under-layer that typically is a knit, fleece, charmeuse, tricot or jersey.
"The adhesive is critical," Weinbender explained, noting that not only is the polyurethane vapor-permeable, but the space between the dots also allows vapor transport. "We've developed the dot adhesive so there is the same function throughout. Other adhesives are not vapor-permeable like ours. This is an added benefit to the c_change technology."
C_change conforms to the bluesign® standard for environmentally responsible materials and processes using best available technologies, utilizing resources in the most efficient manner possible, and avoiding the use of harmful substances and processes in making the end product.
---
For more information about c_change™, contact Schoeller Textil USA, (206) 283-6991.
---
October 17, 2006