Indera Mills, Yadkinville, N.C. – a maker of circular-knit underwear since1914 – today specializes exclusively in thermal and winter-weight rib underwear sold under its own Indera brand or for private-label product lines. Its customers include small specialty outdoor, big-box and catalog retailers. The company carries out all design, knitting, cutting, distribution and administrative functions in Yadkinville; and contracts with two sewing operations in Mexico to construct and package the garments it sells.
Counting itself among the top three US makers of thermal underwear, Indera can ship most orders within 24 to 48 hours of their receipt. According to John Willingham, president, the company's relatively small size – with roughly $20 million in annual sales – allows it to be more nimble in responding to customer needs.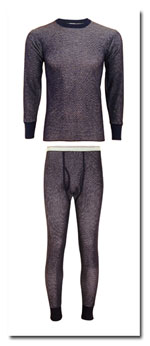 Indera's performance thermal underwear styles with HydroPur® include this dual-face raschel
knit for men.
With the development of special performance technologies for apparel of all kinds, even underwear – especially that worn during rigorous outdoor activities in extreme weather conditions – may be expected to provide more than basic comfort or extra insulation. Five years ago, Indera introduced a highly successful line of thermal underwear with moisture management.
Now, it has added odor control to the mix, using Charlotte-based DAK Americas LLC's Delcron® HydroPur® polyester staple fiber – which combines Hydrotec™ moisture-management fiber and SteriPur®AM antimicrobial fiber. SteriPur incorporates Spartanburg-based Milliken & Company's silver-based antimicrobial AlphaSan® technology. HydroPur's moisture-management and antimicrobial properties are permanent and evenly distributed throughout the fiber because they are incorporated during polymer formation, according to DAK Americas.
Willingham stressed the role of the complete supply chain in creating Indera's new product — beginning with Milliken's AlphaSan chemistry and its integration into DAK's fibers. Indera then contracts with a spinner to spin the HydroPur fiber into yarn for its products.
The response to the new line has been "very good — better than expected," Willingham said, adding: "We are offering these performance features at a very reasonable price. Milliken developed the AlphaSan chemistry in a very creative, economical way — at about one-third the cost of the high-end silver-based technologies." He also said AlphaSan enables superior dye-ability when compared with the other technologies.
Indera offers several styles in its performance thermal line. Included are rib-knit 100-percent HydroPur styles for men, women and children; and three other men's styles — a two-layered rib knit with HydroPur inside and a polyester/wool blend outside; a raschel knit containing a blend of HydroPur, cotton and wool; and a dual-face raschel knit with HydroPur inside and cotton outside.
---
For more information about Indera's performance thermal underwear line, contact John Willingham
(336) 679-4440; jwillingham@inderamills.com
---
May/June 2006