W
eave  Corporation, a Hackensack, N.J.-based upholstery fabric manufacturer that prides itself on its design and technology expertise, has introduced Weatherwize®, a line of jacquard-woven enhanced polyester fabrics designed to bring the aesthetics associated with fine
interior upholstery to the patio, sunroom and other outdoor settings, including boats and recreational vehicles. The yarn-dyed fabrics feature finely woven designs with a multitude of color possibilities in addition to outdoor performance attributes such as water repellency, ultraviolet
(UV) resistance, and antimicrobial and antifungal protection. They are available in a standard line of fabrics and also in small, custom runs.Roger Berkley, president and great grandson of company founder Louis Cohen, said Weatherwize offers cutting-edge, fashion-forward, value-added casual decor options to customers who want a more refined look than what typically is available with acrylic outdoor fabrics. In addition to its sophisticated designs and soft hand, the fabric is more pill-resistant than acrylic, and it also can be given a fire-resistant finish — a benefit not available for acrylic fabrics. Also, acrylic yarn has a relatively bulky size per denier that limits its use for more refined applications, he
said.
"We're using much finer yarns and weaving fabrics with much higher picks per inch than acrylic fabrics. Therefore, Weatherwize fabrics have more intricate designs and weaves," Berkley explained, noting the fabrics are elegant and comfortable enough to use indoors as well.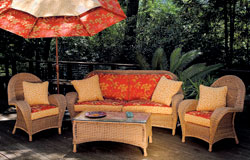 Weatherwize® jacquard-woven enhanced polyesterupholstery fabrics add a refined touch to
casual outdoor settings.
UV resistance is incorporated into the yarn during dyeing, and antimicrobial properties and water repellency are added during the finishing process. The fabric is highly water-repellent, Berkley said, so it will stand up to a sudden rainstorm.
Because the fabrics are yarn-dyed, the company can dye smaller quantities of yarn in a greater range of colors than is possible with solution-dyed yarn, which typically is used when UV resistance is needed and requires large minimum lots to be economically feasible, he noted.
Weatherwize is sold primarily through high-end fabric wholesalers to interior designers, but a range of standard fabrics is available to consumers through retail fabric and furniture stores.
The company also offers Weatherwize trim in more than 140 colorways to complement the fabrics. In terms of characteristics and structures, the fabrics sold to the trade and in the retail market are comparable, Berkley said.
He added that the company, which produces Weatherwize at its plant in Denver, Pa., is able to produce custom runs as short as 25 yards and deliver them in one to three weeks. Orders of standard fabrics on a cut-length basis can be shipped within 24 hours.
Weave offers a three-year limited warranty on the performance of Weatherwize, provided the fabric has been properly cared for. It is easily cleaned using warm water and a mild detergent.
---
For additional information about Weatherwize®, contact Glenn Dragone (212) 921-8757, info@weatherwize.com.
---
January/February 2006