ARC Outdoors, Broken Arrow, Okla., and NanoHorizons Inc., State College, Pa., have formed a partnership to promote and license nanotechnology to textile manufacturers and brands.
ARC Outdoors sells body heat-reflective cold weather apparel and manufactures outdoor
activewear with scent-elimination properties. NanoHorizons was established by Stephen Fonash,
Ph.D., founder and director of the Penn State Center for Nanotechnology Education and Utilization,
to develop solutions based on nanotechnology licensed from Pennsylvania State University.
"We had problems we wanted to resolve with existing products when we met NanoHorizons and began investigating what nanotechnology could do to improve our products," said Rus Huffstutler, executive vice president, ARC Outdoors. The company has introduced a line of E47™ Nano Technology branded fabrics and yarns, and through the ARC Materials Licensing Program will offer the technology to other manufacturers. Huffstutler noted E47 application areas will include more than just performance apparel, mentioning carpet, baby clothes and footwear, among other areas.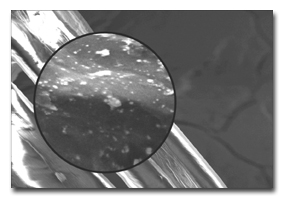 E47™ cotton fiber magnified 2,650 times looks unaltered. Inset: Magnification of 40,000
times shows embedded E47 nanoparticles.
The first E47 products offer anti odor properties through an additive that the companies claim provides truly permanent, safe and effective protection without compromising a garment's other performance properties or comfort level; and offers an inexpensive solution that allows the use of conventional manufacturing
machinery in downstream processing.
The antiodor technology embeds silver particles measuring less than 15 nanometers (nm) in diameter throughout the fiber. Dennis Schneider, director, sales and marketing, NanoHorizons, explained that, volume for volume, particles of this size offer far more surface area to produce microbe-fighting silver ions than larger nanoparticles. Therefore, less silver is needed to accomplish the same end.
E47 additives have been developed for cotton and polyester, and versions for nylon and polypropylene are planned. Schneider said the cotton additive bonds permanently to the cotton fiber and is applied using a process similar to dyeing. "We believe we have created the first antimicrobial additive that creates permanently antimicrobial cotton — and the only one that allows the end product to still be 'just like cotton,'" he said.
The polyester additive is pelletized for use in a hot-melt extrusion process. "Our Master Compound is blended with standard polyester pellets in a very specific recipe in the fiber extruder, creating a polyester fiber that has an even distribution of our custom nanoparticles bonded directly and permanently into the polyester itself," Schneider said.
He also noted the E47 additives will not clog extruders or affect fiber quality, as other particle additives are prone to do.
Huffstutler said E47 technology can be customized. "The effectiveness of a property can be increased or decreased according to the end-use," he explained. "The technology will allow brand manufacturers to innovate their own products."
---
For more information about E47™, contact Bob Parker or Bill Douglas, ARC Outdoors (918)
258-8788; www.e47nano.com.
---
September 2005