Collaboration often is an effective way to bring innovation and creativity into product design and development — as the saying goes, two heads are better than one. Each source brings its own expertise and insights to the process, and the end product likely will offer greater interest and value than a creation that comes from a single source.
LaGrange, Ga.-based Milliken Carpet — a subsidiary of Spartanburg based Milliken & Company — and SOM Collaborative — a multidisciplinary operation within global architecture firm Skidmore, Owings & Merrill LLP (SOM) — have brought their respective talents together to develop Way, a new collection of 36-inch modular textured loop-pile carpet. Way's three design families, each having three patterns within it, offer interior designers the flexibility to design floors with variable patterns, directions and colors. They are inspired by natural and man-made topography including rivers, glaciers, cityscapes, highway grids and traffic, bridges, airports and other images that lend an architectural element to a floor's design.
The collection is the first to take advantage of Milliken's latest-generation High-Definition Millitron® dye technology, which gives a sense of dimension through refined color gradations and visual texture. The collection's six high-contrast colorways take their cues from geography, and bear names such as Asphalt (charcoals), Bedrock (browns), Glacier (silver-blues), Lake (blue-blacks), Lava (reds) and Meadow (greens).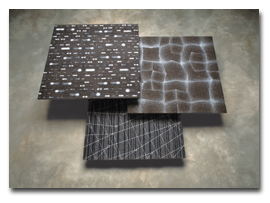 Way's three design families – (clockwise from upper left) Urbanscape, Riverbed and Forcefield – each comprise three
pattern variations, allowing designers flexibility to create floors with variable pattern
directions and complexities.
"With the new High-Definition technology, we have been able to get tremendous detail and pinpoint accuracy," said Alison Kitchingman, director of marketing, Milliken Carpet. As examples, she noted background textural effects and overlay of the main pattern on top of texture in the Urbanscape design family, and subtle pattern gradations in Riverbed.
"We collaborated with SOM because the firm's approach to carpet design and use is an architectural process," Kitchingman said of the Milliken/SOM partnership. "We had this new technology, and wanted to collaborate with someone who
would push us to the absolute limit. SOM provided that."
The collaborative's Pattern Builder™ software allows designers to configure the patterns into a total concept using a click and drag tool. The software is available on CD and this spring will be offered on-line at www.millikencarpet.com.
Way is made with Milliken Certified WearOn® Type 6,6 nylon and Underscore™ polyvinyl chloride-free cushion backing or ES (Engineered for Sustainability) backing with recycled content. MilliGuard® soil protection and stain resistance, and AlphaSan® antimicrobial protection also are included. ES backing can be supplied with TractionBack® high-friction coating for glue-free installation. The carpet is 100-percent recyclable and renewable via Milliken's Earth Square®
reclamation and reuse process.

April 2005