T
he FiberComposites Division of Ahlstrom Corp., Finland — in collaboration with Cardinal Health Inc., Dublin, Ohio — has developed a fabric for single-use medical gowns that it says provides the maximum available level of protection against contagious viruses, as well as a high degree of comfort and breathability. The Breathable Viral Barrier (BVB) fabric answers a need for improved protection as specified in new standards being developed for single-use medical fabrics by industry groups in the United States, the European Union and elsewhere.
The three-layered BVB fabric has at its heart a monolithic, impervious membrane that increases the rate of moisture transfer in proportional response to the wearer's rising body temperature in situations — such as during surgery — where stress can and does run high. The membrane is enclosed between two spunbond fabrics made with continuous fine polypropylene filaments — an inner fabric treated to make it soft and comfortable and an outer one treated to give it additional strength and repellency.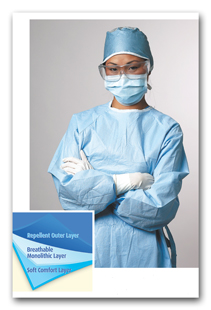 Cardinal Health's SmartGown™ surgical gown is made with Ahlstrom's BVB fabric featuring a monolithic, impervious membrane sandwiched between two microfiber spunbond layers.
According to Jerome Barrillon, global marketing and communications manager in Ahlstrom's Windsor Locks, Conn., office, "monolithic" refers to Ahlstrom's proprietary technology for producing the membrane. "It's a different way of casting the film that allows water vapor to diffuse through the polymer film, while at the same time the membrane forms a total viral barrier," he explained. The molecular diffusion helps the wearer stay comfortable and dry, but the membrane is impenetrable by infectious fluid-borne viruses.
Barrillon said the membrane conforms to the ASTM F1671 standard for resistance to viral penetration, and — according to ratings established by the Association for the Advancement of Medical Instrumentation (AAMI), Arlington, Va. — achieves AAMI Level 4, the highest degree of protection, compared with conventional protective barrier fabrics that use microporous films. "There's no guarantee that viruses won't go through microporous films," he said, explaining that such films have microscopic holes that are not of a uniform size, and viruses may be able to penetrate them to some degree. He added that Ahlstrom has conducted tests to visually demonstrate the efficacy of its BVB fabric, even when pressure or other such impacts are applied.
Cardinal Health uses Ahlstrom's BVB fabric in its SmartGown™ surgical gown. The gown has an additional protective benefit in that the main seams on the sleeves are sealed using Cardinal's proprietary technology that creates an impervious bond and enables SmartGown to achieve AAMI Level4 in terms of both material and construction. The company says the gown meets the AAMI standard while also delivering "a high level of clinician comfort."
---
For more information about Ahlstrom's BVB fabric, contact Jerome Barrillon (860) 654-8607,
www.viralbarrier.com.
---
January 2005