At this year's Outdoor Retailer Summer Market in Salt Lake City, Quebec-based Huntingdon Mills (Canada) Ltd. unveiled PurEffort moisture-management/odor-control activewear fabrics, offered under its SkinTech™ moisture-management brand. The fabrics are made with Charlotte-based DAK Americas LLC's Delcron® HydroPur fiber, which combines the hydrophilic properties of Delcron Hydrotec™ fiber with the antimicrobial properties of Delcron SteriPur®AM fiber — made with AlphaSan®, Spartanburg-based Milliken Chemical's zirconium phosphate-based ceramic ion-exchange resin containing silver.
Ricky Lane, corporate communications manager, DAK Americas, said Delcron HydroPur is the first fiber to offer the dual functions of moisture management and antimicrobial protection. "Through molecular engineering, both properties are built into the fiber," he said. "Because they are inherent rather than applied topically, they don't inhibit downstream processing and don't require special manufacturing processes. Molecular engineering also provides consistency across the
fiber, yarn and fabric, whereas topical treatments could be inconsistently applied."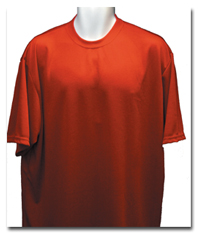 Ultra-light-weight PurEffort Interlock is suitable
for T-shirts and other next-to-body apparel.
Regarding the company's branding strategy, Lane said, "DAK Americas offers its fibers in a trade-branding platform that allows the downstream manufacturer to sell and develop its own unique brand and create its own identity." Hence, Huntingdon Mills developed its PurEffort branded fabrics on the platform of DAK's HydroPur fibers, which provide the back-up story of how the fabric works.
Huntingdon Mills is among the first fabric makers to use HydroPur. "There are other companies that have fabrics in development, but Huntingdon Mills is the first to take it all the way," Lane said.
Huntingdon Mills' SkinTech brand comprises a number of fabrics that offer varying degrees of moisture management at different price points to satisfy customer requirements. David Waters, the company's vice president, sales and marketing, said the PurEffort fabrics take the brand to a new level of performance.
PurEffort Interlock is an ultra-lightweight, next-to-body fabric suitable for T-shirts and inner garments or as a liner for heavier-weight garments. PurEffort Fleece has a jersey outer face and is lightly napped on the inside face. In apparel, it can be worn next to the body or as an
outer layer, in which case it continues to wick moisture from the next-to-body garment through to its outer surface, Waters said. He added that the wickability of the HydroPur fiber used in the fabrics has been shown to be greater than that of any other fiber on the market.
Waters said the initial response to PurEffort has been very positive. "We expect PurEffort to become a whole family of fabrics," he said, noting the company already has additional fabrics in development, including a lightweight stretch fabric that offers wicking and four-way stretch for ease of movement and high mobility. "Active people want a fabric to be an extension of the body, so that it allows them to move easily and enhances their own performance," he added.
---
For more information about PurEffort fabrics, contact David Waters (973) 360-0764, or
customer@huntingdonmills.com.

---


November 2004