Applied Radar Inc. — North Kingstown, R.I., a research and development firm that designs and produces prototypes of sensing, communication and navigation systems using microwave or radio frequency technology — has introduced a line of electronic textile (e-textile) antennas. Michael A. Deaett, antenna sales manager, says the antennas can provide higher performance and lower cost to original equipment manufacturers' wireless and radar products.
"E-textile antennas are simply antennas constructed from fabrics using the techniques of the textile industry," Deaett said. "We have built and tested antennas operating at frequencies from 400 megahertz (MHz) to 2.5 gigahertz (GHz), and we are now moving to 10 GHz."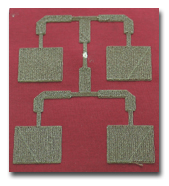 E-textile antennas can replace traditional printed circuit antennas in conventional
applications, as well as enable new possibilities.
The antennas are an early product of research funded by the Defense Advanced Research Project Agency (DARPA) of the US Department of Defense under a Phase I Small Business Innovative Research program. "DARPA has been trying to put together a project to use textile industry
techniques to make e-textiles. Applied Radar is the first company to make textile microwave antennas," Deaett said. One possible application is low-cost, lightweight antennas for very large aperture applications such as space-based antennas.

"While not appropriate for all electronic applications, the textile approach is very cost-effective if the features are accurate enough for the specifications," he said, noting most printed circuit boards include fabric-based substrates. "The idea is to use textile fabrics and methods to produce low-cost, high-performance antennas that can be integrated in a seamless, nonintrusive way into our living spaces."
Deaett said the company has developed two antenna types. "The first type consists of lightweight, flexible free-form textile antennas that perform like a conventional laminated antenna at less than 20 percent of the cost. A second consists of resin-infused textile antennas that can be incorporated into a composite airframe."
The free-form model ET 100 antenna is used in woven or knitted textiles (typically nylon or polyester) that are stitched together with metallic conductive threads; while the composite encapsulated antenna is suitable for aircraft, automotive and shipbuilding applications.
The company expects the ET 100 will not only replace traditional printed circuit antenna technology in conventional applications, but also open up new possibilities including fashion apparel and home wireless systems applications.
In the commercial area, Applied Radar is selling 8-inch by 10-inch planar antennas to go into wireless networks. In wearable applications, Deaett said, "they can be stitched into a garment after that garment is made, or they can be incorporated into the fabric as that fabric is made and then utilized after the fabric has been incorporated into a garment."
As part of the DARPA project, the company has made a wearable antenna that operates at 430 MHz for military applications. "We just tested it, and it works very well," Deaett said.
---
For more information about Applied Radar e-textile antennas, contact Michael A. Deaett (401)
295-0062, Ext. 107; miked@ appliedradar.com.

---

October 2004