Renewable, biodegradable alternatives to petrochemical-based fibers have provided Interface Fabrics Inc., a division of Atlanta-based Interface Inc., with new possibilities in its quest to make its operation and products as environmentally sustainable as possible. At NeoCon®
2004, held recently in Chicago, the commercial fabrics manufacturer introduced panel fabrics made with Minnetonka, Minn.-based Cargill Dow LLC's Ingeo™ bio-based fiber — the first such commercial fabrics available.
Ingeo fiber is processed from biodegradable polylactide (PLA) polymer resin derived from fermented sugars of corn, a 100-percent annually renewable resource. PLA requires 20- to 50-percent less fossil fuel and generates 15- to 60-percent fewer greenhouse gas emissions in its production than do petrochemical-based fibers such as polyester. It is produced without using antimony, a heavy metal used in the production of polyester bottles — the source for recycled polyester fiber.
Ingeo also offers performance benefits comparable to and even exceeding those of polyester. For example, it is naturally stain-resistant; does not retain odors; and exhibits superior fire-retardant properties, emitting non-toxic smoke and low levels of heat when burned.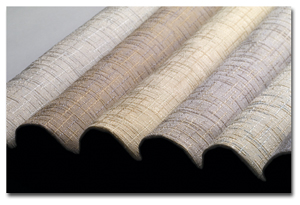 Herman Miller's Kira panel fabrics, developed in partnership with Interface Fabrics, won a
Best of NeoCon® 2004 Gold award.
Interface Fabrics offers its bio-based textiles under the Terratex® brand, which also features fabrics made from recycled polyester and "green" wool. At NeoCon, the company launched open-line Bungee and Propeller PLA panel fabric collections through Allsteel Inc., a Muscatine, Iowa-based provider of workplace
solutions. It also partnered with office solutions provider Herman Miller Inc., Zeeland, Mich., to introduce Kira, a proprietary line of PLA panel fabrics that won the Best of NeoCon 2004 Gold award in the Textiles: Panel category.
Paul Bennotti, director of marketing strategy, Interface Fabrics, said response to the fabrics was "phenomenal. The interest was huge, and customers were fascinated by the corn-into-fabric story." He said commercial interest in green building and interior products has grown significantly thanks to standards such as Leadership in Energy and Environmental Design.
Bennotti said the new fabrics were more than three years in the making, from developing a suitable fiber size and the desired aesthetics to getting to the right price point. They are the first Terratex fabrics to conform to a new Chemical and Dye Protocol, ensuring that the finishing and dyeing chemicals used are the most eco-friendly materials available. They also are produced using wind energy under the company's Green-e certified program. Under the ReSKU™ reclamation
program, Interface Fabrics is developing a formal reclamation and composting protocol to be used with its bio-based fabrics.
Herman Miller also is developing a composting program for PLA fabric scrap. "We know the fabric composts completely within 72 hours, and that it will act as a plant nutrient," explained Barbara Tasker, senior product manager, Herman Miller. A mixture of fabric, sawdust and organic material is heated to 140°F. The composted material then can be used to fertilize crops, such as corn.
---
For more information about Terratex® bio-based fabrics, contact Paul Bennotti
paul.bennotti@interfacefabrics.com, or Interface Fabrics (207) 876-3331.

---

August 2004