New regulations often create opportunities for manufacturers to develop new or improved products for specific markets. Such is the case with the State of California's new Technical Bulletin (Cal. TB) 603, which mandates that, effective Jan. 1, 2005, mattresses, box springs and
futons sold in that state to consumers must be open-flame-resistant. The regulation, which also serves as a model for a proposed national standard, has spurred a number of fiber and fabric producers to introduce compliant products that will enable end-product manufacturers to stay competitive.
Among the players in this market is Johnston Textiles Inc., Phenix City, Ala., whose Phenix Barrier® woven and nonwoven fabrics contain a proprietary blend of readily available raw materials that provide protection from open-flame sources. The company — a niche manufacturer formed earlier this year when a management team from Johnston Industries Inc. acquired that company's fabric and
testing businesses — says the products can be produced on conventional textile equipment and offer an affordable solution to meet or exceed Cal. TB 603 requirements.
"Our products are highly specialized, and performance is their most important aspect," said L. Gene Cone, president and CEO. "Johnston Textiles is in the business of developing technical textile solutions that meet our customers'
customers' needs.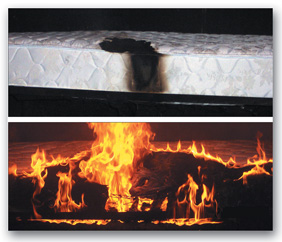 The photographs above, taken three minutes into a burn test, compare the flame resistance
of a mattress made with Phenix Barrier® (top) with that of a standard mattress (bottom).
"Mattresses are a case in which legislation has finally caught up with the need. For example, Johnston already supplies flame-resistant products to institutional markets, such as the US Navy," Cone continued. "We now have some very unique products that offer a good balance between performance and cost."
Phenix Barrier W is a soft, drapable woven cotton/coated fabric for use on high-fuel-load mattresses such as those made with a high proportion of urethane. Phenix Barrier NW is a needled nonwoven fabric made from blended fibers. Used on the top panel of the mattress, it provides added cushioning as well as flame resistance. The two products can be combined in a mattress — with the
nonwoven fabric on the top and bottom panels and the woven on the borders, where the coil springs place more tension on the fabric, which over time would cause fiber-to-fiber slippage in the nonwoven barrier. The woven fabric also is used on pillow-top mattresses where the pillow top joins the mattress and off-gassing could occur from the mattress filling.
The barrier fabric is placed between the filling and the ticking. In open-flame testing, the ticking burns, but the barrier resists the flame and maintains its strength, insulating the filling from the flame and the oxygen it requires to burn. Johnston also will be conducting accelerated aging tests to simulate effectiveness over time.
"We've come up with a simple solution — using a nonwoven barrier on the panels and a woven barrier on the sides — that should still be effective 10 years later," said Marty Odum, vice president, market development. "Even the nonwoven product should maintain its strength."
The company says numerous bedding manufacturers have expressed interest in using Phenix Barrier in their mattresses.
---

For more information about Phenix Barrier®, contact Bill Maher (770) 502-9752;
bmaher@johnstontextiles.com.

---

May 2004