Earlier this year, Spartanburg-based Milliken & Company introduced StainSmart™ stain-repellent/release technology. Brenda Burris-Drake, merchandising director, Woven Apparel Fabrics, said Milliken developed the technology after identifying a need for added stain-prevention performance.
"There has been an increasing trend toward stain-repellent fabrics that claim to be 'no-stain,' but they are not really," Burris-Drake said. "Fabric has a 3-D structure. If an oil stain manages to get underneath the repellent on its surface, then you need a stain-release component to remove it."
Scott Lovingood, marketing analyst and planner, Career Apparel Fabrics, explained that StainSmart is a layered technology whereby the stain repellent is applied on the outside of the fabric to allow most water- and oil-based stains to roll off, and the release is applied within to prevent ground-in oil-based stains from remaining in the fabric. During laundering, the release component pulls water and detergent through the fabric to wash out the stain. Lovingood said the treatment offers permanent protection to a variety of knitted and woven fabrics including nylon; as well as polyester, cotton and blends of the two.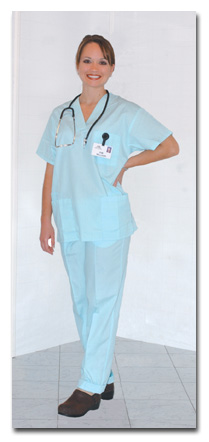 Peaches Uniforms Inc.'s Petal Soft Pastel solid scrubs are made with Milliken &
Company's StainSmart™ polyester/cotton poplin fabric.
"As a vertical operation that develops technologies and manufactures fabrics for end-users, Milliken has the flexibility to apply its chemistry at different stages of manufacturing," he said. "Each application has its own team, and all divisions can use the core technology and apply it to
fabrics for a wide range of uses including apparel, hospitality, healthcare, military and automotive. Because of the interaction among our various operations, we are also able to quickly resolve potential problems during sample development."
Milliken claims StainSmart is the only fabric technology proven to work on such a wide variety of fabrics. It is available through custom development or on the company's ready-made fabrics including Hush ultra-lightweight nylon for outerwear, Milestone micro-denier menswear
bottomweight fabric, Inherent FR polyester for draperies and bedspreads, polyester/cotton shirting and pant fabrics for career apparel, and cotton fabrics for retail pants. Burris-Drake said the
treatment does not affect the hand of the fabric and mentioned its use in soft fabrics for womenswear. Another application is travel apparel, in which easy care is important.
Peaches Uniforms Inc., Dallas, is using StainSmart polyester/cotton poplin to provide added value to a line of scrubs for the healthcare industry. Linda Shorter, the company's vice president, merchandising and design, explained: "By adding the most advanced fabric protector, we are able to give our customers two stain fighters in one: Liquid spills bead up and roll off. Tough stains, such as blood, are released from the fabric during laundering."
---

For more information about StainSmart™, contact Scott Lovingood (800) 828-3034.

---


December 2003