For the second year in a row, Shaw Contract — the broadloom division of Dalton, Ga.-based Shaw Industries Inc. — and Dallas-based interior architecture firm lauckgroup have joined forces to create a carpet product worthy of the Best of NeoCon® Gold Award. The flux systems program, a broadloom carpet collection offering large-scale architectural imagery and including a coordinating modular component, won the award in the broadloom category at this year's NeoCon interior design
show in Chicago.
The flux program offers a systems approach to design. Multiple patterns can be used together to create what Shaw calls "carpet without boundaries." The company takes advantage of ground-breaking technology offered by Chattanooga, Tenn.-based CMC/Card-Monroe Corp.'s Infinity Machine to manufacture the collection. The machine poses no limitations on pattern width or length and offers virtually unlimited pile heights, according to Reesie Duncan, director of development, Shaw Contract. "We've pushed the machine to its limits to maximize its potential," Duncan said.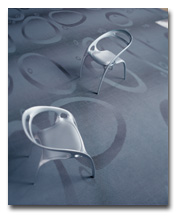 Patterns in the flux program echo nature's
rhythms and offer gradations of color and value.
Various patterns can be seamed together side-to-side or end-to-end to provide transitions between areas, allowing designers to create macro-imagery that echos nature's rhythms and carries gradations of color and value across the entire floor. Shaw says such design is particularly
appropriate for the open, flexible spaces found in the corporate workplace.
Duncan worked with lauckgroup designer Charlie Kane throughout the entire flux development process. "Carpet should be a design tool," said Kane. "It should enrich the experience of the end-user, and it should add to the emotional experience of a space. This allows the designer to
create compositions of shifting rhythm and color throughout a space."
The flux collection is made with Solutia Ultron® Color bulked continuous filament nylon 6,6. Broadloom styles use Shaw's Ultraloc Pattern® backing system, in which high-performance, enriched latex is laminated to a woven secondary backing. The collection's coordinating modular style, Pulse, uses Shaw's environmentally sustainable Ecoworx® backing system, which recently won the Environmental Protection Agency's Presidential Green Chemistry Challenge Award. Ecoworx is a
100-percent PVC-free, recyclable, thermoplastic polyolefin compound with a fiberglass reinforcing layer.
"Shaw Contract strives to be an industry leader in a number of areas including design, technology and environmental sustainability," said Brenda Knowles, vice president of marketing, Shaw Contract. "The flux systems program that we created with lauckgroup is an excellent testament to our collaborative creativity. We think designers are going to appreciate this innovative approach to carpet."
---

For more information about flux, contact John Stephens (706) 275-3665.

---

August 2003