Pallas® Textiles, a Green Bay, Wis.-based designer and marketer of contract and residential textiles and wallcoverings, recently introduced Alloy, a panel fabric in which polyester crepe is bonded with aluminum to create an elegant, shimmering textile that also is extremely durable. Developed by Rock Hill, S.C.-based designer Michael D. Laessle, who drew on technology used originally for military applications, the fabric was the recipient earlier this year of the ADEX Platinum Award, sponsored by Design Journal, in addition to a Best of NeoCon Silver Award and an Innovation Award in the fabrics, leathers and vinyl category at NeoCon 2002.
The fabric was nearly two years in development, according to Laessle. "Timing is everything," he said, adding that Alloy's evolution involved considerable trial and error to perfect both the bonding and the dyeing processes for the fabric relative to its envisioned use in contract and
residential interiors.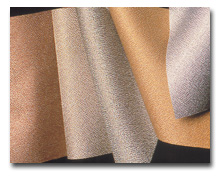 Alloy is available in five metallic colors, which are coated
lightly onto the crepe fabric to give a sense of deepened texture.
"The manufacturing process is quite amazing," said Laessle. "A 100-percent polyester crepe greige fabric is fed through a chamber heated to 1,200°F under high pressure. Aluminum rods are also fed into the chamber, where the solid metal changes to gas and permanently fuses with the fabric — hence, the name Alloy."
Color is coated onto the fabric very lightly and adds depth to the crepe texture by settling into the interstices between warp and filling. The addition of the metal makes the fabric " virtually indestructible," according to Kimberly Christman, president of Pallas. It passes all
crocking, fading and flammability tests; and it also has passed the Wyzenbeek abrasion test for more than 100,000 double rubs. "The aluminum is so imbedded into the polyester fiber that it won't rub off," Laessle explained.
Alloy may be used in vertical applications, such as panels and demountable walls, or in selected seating applications. "Although it maintains the qualities of a fabric and sews beautifully, it does not have the stretchability of other fabrics, so as seating it works best for such uses as banquettes," Laessle said.
As a wallcovering, he said, Alloy appears to be seamless. One facility is using Alloy in its communications center in combination with wood, which Laessle said softens the metallic, industrial aspect inherent in the fabric. Describing other vertical uses, he mentioned a hotel that is using
it for shower curtains. Its shimmering elegance and durability make this innovative fabric suitable for a variety of contract and residential uses.
May 2003