The birth of a new product often involves collaboration among various parties in the production chain, from upstream suppliers that develop materials for downstream uses to marketers who recognize coming trends. One such product is Ge-Ray Fabrics Inc.'s Liquidity®, a new knitted fabric line made from microdenier nylon feeder yarn specially developed by BASF Corp. and textured using Unifi Inc.'s Novva™ process.
"Liquidity is a brand-new concept," said Debra Cobb, merchandising director for Ge-Ray, New York City. "Ge-Ray has developed an entire group of fabrics for sportswear and fashion apparel, swimwear, and intimate apparel. We also see it eventually in activewear, because we are seeing activewear-influenced styling in next Spring's fashions — silk shorts, for example. The hallmarks of Liquidity are its subtle luster and silky hand (because it is microdenier nylon) — and you can wash it." According to Ge-Ray, the fabrics also offer affordable sophistication when compared with high-end silk jerseys.
Unifi's Novva texturing process gives subtle luster to bright nylon or polyester yarns and allows them to remain bright — an unusual feat, according to Kim Lewis, Greensboro, N.C.-based Unifi's director of marketing.
On first seeing the Novva yarns, Cobb recognized their unique, trendsetting possibilities and began working with Unifi and Charlotte-based BASF to come up with a yarn engineered specifically to meet Ge-Ray's specifications for use in the new fabric. Development occurred over several months, and Liquidity was launched last spring.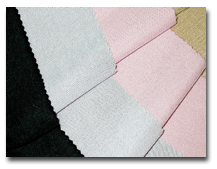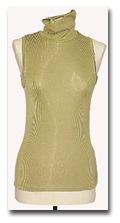 The Liquidity® fabric line includes nylon/Lycra® jerseys and ribbed knits, as well as
100-percent nylon interlock knits.

A Magical Process

Cobb described the Novva process as "magical," adding, "We like it on bright nylon because it allows textured brightness without losing the luster. The Novva process enables us to get the dyeing results we are looking for.
"We work closely with yarn spinners to keep up with new developments. Our strength is in taking new products and creating brands," Cobb continued.
A vertical operation, Ge-Ray purchases the yarn and knits the fabric, then dyes and finishes it. "Ge-Ray does a big business in nylon — we are very familiar with what it can do," Cobb added.
Cobb said apparel makers are currently sampling Liquidity. Fabrics include jerseys and ribbed knits in a range of weights and containing various amounts of Lycra®, and 100-percent nylon interlock knits. Ge-Ray also will produce fabrics according to customer specifications.
---
For more information about Liquidity®, contact Debra Cobb (212) 869-3400.
---
November 2002