Since its introduction last year, Schoeller Textil's 3XDRY® finishing technology has earned praises for its multifunctional moisture-management capabilities. First developed for activewear, it also is suitable for workwear, leisurewear and fashion apparel.
"3XDRY is Schoeller's answer to a challenge from the marketplace to provide a treatment that retains water resistance on the face of a fabric and increases wicking on the back," said Tom Weinbender, president, Schoeller Textil USA Inc., Seattle. The two functions are truly separate
within the fabric, which remains highly breathable.
The technology uses a special process to apply the opposing finishes. A hydrophilic finish on the back wicks perspiration away from the body, spreading it over the fabric, to evaporate quickly on the face, which has a hydrophobic finish that repels water and dirt. The fabric dries six to
eight times faster than untreated fabric. 3XDRY also incorporates FreshPlus hygienic treatment to control odor.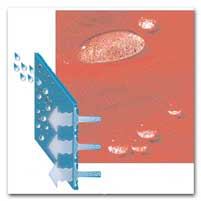 3XDRY® provides hydrophilic, hydrophobic
and quick-drying properties all at once.
3XDRY optimizes the performance of any woven fabric, whether single- or multi-layered. Weinbender said fabrics treated with 3XDRY remove 100 percent of moisture from the body, while those having standard hydrophilic treatments remove only 35 percent. The moisture management properties last through 30 to 50 launderings or more. The application of heat, either by ironing or in a dryer, reactivates water repellency.
3XDRY was developed without using carcinogens or heavy metals and complies with the bluesign® standard for environmentally responsible manufacturing
(See "The Blue Revolution," TI , April 2001).
Schoeller applies the treatment to several of its stretch woven fabrics, including
double-faced schoeller®-dryskin with nylon and Coolmax®, whose wicking properties are enhanced by 3XDRY.
Other fabrics include: schoeller-dynamic, with nylon and Cordura® for performancewear, and natural fiber blends for sportswear; and schoeller-WB-400, with a fleece backing and a breathable coating, for use in winter apparel.
Apparel makers are using the fabrics in soft-shell applications. The German manufacturer Vaude was among the first to offer such apparel, earning the ISPO Outdoor Award Summer 2001 for the best outdoor innovation based on function, innovation, user-friendliness and design.
Schoeller licenses the 3XDRY technology to other companies as well, and also will act as a converter, treating fabrics manufactured by other companies.
For more information about 3XDRY®, contact Tom Weinbender (206) 283-6991.


September 2002