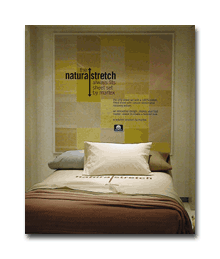 O
ver the last few years, N.C.-based Cotton Incorporated has been developing 100-percent cotton woven stretch fabrics that do not rely on man-made or elastomeric yarns to provide the stretch properties. The original idea was to use the technology for apparel applications.As a result, a considerable amount of stretch cotton apparel fabric is being woven in Asia and other locations abroad, according to Thomas Pendleton, director, public relations, Cotton
Incorporated, New York City.
Now, WestPoint Stevens Inc., West Point, Ga., is using the technology in the home fabrics arena. The company's Natural Stretch fitted sheet, developed in response to consumer demand for better-fitting sheets, is marketed under its Martex brand of bed and bath products. The new sheets are the only stretch sheets available that contain no man-made or elastomeric yarns.

Partnering Achieves Results
Cotton Incorporated and WestPoint Stevens collaborated to adapt the stretch technology for use in sheets. It all began with a meeting between product development and marketing personnel from
Cotton Incorporated and a cross-functional development team from WestPoint Stevens that included product development, manufacturing and advertising management, according to David Earley, Northeast
regional manager of global product marketing, home furnishings, Cotton Incorporated, Cary.
"It was a good situation for all of us," said Earley. Cotton Incorporated gave WestPoint Stevens a six-month exclusive license to develop the product. Using machinery already in place in its mills, WestPoint Stevens conducted several trials to achieve the degree of stretch and recovery desired for the company's sheeting application. The results were beneficial to both companies, giving WestPoint Stevens a new product and extending the research and development begun by Cotton
Incorporated.
A combination of weaving and finishing technologies is used to give lasting stretch properties to cotton without the addition of man-made materials. The trick has been to produce a yarn that relaxes back to its original state after repeated and/or prolonged stretching and numerous washings. The recovery rate of WestPoint Stevens' sheeting fabric — after stretching 11 percent to fit smoothly and tautly over a mattress — is 97 percent. Laundering restores the sheet to its original shape.
The first Natural Stretch fitted sheets are being shipped to select retail stores this quarter.
---
For more information about stretch cotton, contact Victoria Pace, Cotton Incorporated, (212) 413-8350. For more information about Natural Stretch fitted sheets, contact Toni Cauble, WestPoint
Stevens, (706) 645-4879.
---
March 2002