Q 
uietness, durability and resistance to extreme cold are much desired qualities in fabrics used in hunting apparel. With these requirements in mind, Glen Raven Knit Fabrics, Glen Raven,
N.C., introduced its Microsuede® with DuPont's abrasion-resistant Cordura® to the hunting and outdoor apparel market in early 2001.The fabric represents a new generation of the company's original warp-knit Microsuede hunting fabric, which was introduced about five years ago as an alternative to traditional woven fabrics and the newer fleece fabrics being used for hunting and outdoor apparel. According to Hal
Bates, marketing manager, Microsuede offers advantages of quietness and softness over louder, stiffer woven fabrics and of burr-resistance over wooly fleece, as well as being more wind-resistant than most fleeces. In addition, he said, the brushed surface of polyester Microsuede shows a more photo-realistic, non-fading printed camouflage pattern than cotton. The fabric also is treated with Glen Raven's Repelzz® water management system for long-lasting water repellency.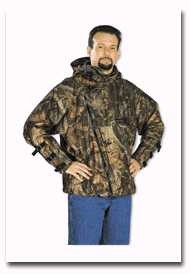 Sportchief uses Glen Raven's Microsuede with Cordura in a range of outerwear products
including the archery jacket, shown above.

Collaborative Efforts

With all these advantages, the fabric's quietness has remained its primary advantage for hunters. However, Glen Raven sought to improve the fabric further by adding abrasion resistance. The company has had a strong association with DuPont for a number of years and worked with the fiber company to develop a warp-knit version of Cordura nylon, which is normally used in woven applications, Bates said.
In Microsuede with Cordura, the two yarns are knitted together in two layers, with Microsuede presenting a brushed face to be printed and a lightweight, 160-denier Cordura in the back layer to provide the abrasion resistance.Initially, Glen Raven granted an exclusive license to
Canada-based Sportchief, an outdoor hunting apparel manufacturer, which introduced the fabric as Durasupple® in a range of outerwear products. Sportchief sells its products in the northern United States, Canada and Europe, and its customers require heavy, durable apparel to wear in extremely cold climates.
Glen Raven is now licensing other companies as well to use Microsuede with Cordura in products for activities such as hiking, backpacking and snowboarding, in addition to hunting.
---
For more information about Microsuede with Cordura, contact Hal Bates (336) 586-1325.
---

February 2002