The quest for ways to impart performance and protective properties to fabrics without the use of coatings or laminates has spawned a number of recent innovative finishing processes and structurally integrative fabrics. Among them is Vista, Calif.-based Nextec Applications Inc's. patented, proprietary Encapsulated Protection Inside Clothing (EPIC) process. The company's newest line of fabrics, EPIC by Nextec™, includes cotton, stretch nylon and polyester fabrics for use in protective performance outerwear and activewear, as well as in casual sportswear and fashion apparel. The fabrics are currently being used in clothing offered by L.L. Bean, Travel Smith and Brooks.

The Nextec® Encapsulation Process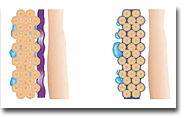 In contrast to coatings or laminates, which are applied to the surface of the fabric, encapsulation works inside the fabric, filling the spaces between the fibers with an ultra-thin film of silicone polymer and creating a permanent barrier that is breathable, yet impermeable to both water and wind.
Encapsulation imparts superb water repellency, abrasion and stain resistance, and other properties, according to Nextec. At the same time, the fabric is quick-drying; retains its natural drape and hand; and allows comfortable, lightweight protection from wind, rain and snow in all but
the most extreme heat or cold. Furthermore, because additional layers are not needed to provide extra protection, garments made from the fabrics are easily compressed for packing.
In the most discriminating laboratory tests, EPIC by Nextec fabrics show water repellency far greater than that of other water-repellent fabrics, even after repeated washings. The fabrics' continued resistance to water absorption prevents the "refrigerator effect," often felt when water-repellent properties wear off of coated or laminated fabrics, allowing the fabric to "wet out" and leaving the wearer feeling dry, but cold and clammy.
In addition, encapsulation is an environmentally sound process that uses no solvents or other hazardous substances. The materials used in the Nextec® process have been shown to be completely safe when tested in an aquatic environment, and they produce no volatile organics when subjected to heat, according to Randy Emil Meirowitz, Ph.D., vice president and chief technical officer.

Other Applications

The Nextec encapsulation process also has applications for protective medical and industrial uses. Polyester fabrics treated with the Nextec® Bio-Barrier System are particularly suitable for high-risk surgical environments that require fluidproof and fluid-repellent protection.
---
For more information about EPIC by Nextec, contact Susan Kohout, (866) 597-5700.
---
August 2007