A
t the International Fashion Fabric Exhibition (IFFE) held last month in New York City, Italy-based Nylstar introduced Nexten, the newest member of its Meryl® line of polyamide yarns. The new yarn is being promoted for use in activewear, intimate apparel, hosiery and accessories.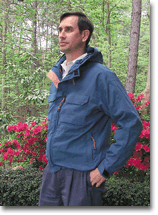 While having all the performance properties found in standard polyamides, including the ability to wick moisture away from the body and dry up to 33 percent faster than cotton or polyester, Meryl Nexten demonstrates other properties due to its unique construction. The new yarn is a hollow-fiber yarn, the first polyamide to be constructed in this way. Such construction makes it extremely lightweight — up to 30 percent lighter than comparable polyamides of the same thickness and about 40 percent lighter than polyester. Yet, comfort and performance are not compromised, according to Nylstar.
"Meryl Nexten is the most dynamic fiber innovation to come along for the activewear, outerwear and fashion industries in quite some time, and is without a doubt the lightest fiber available in the textile industry today," said Dina Dunn, vice president, marketing, Nylstar USA,
Greensboro, N.C. "Any garment made with Meryl Nexten will provide greater comfort and freedom of movement than its bulky, heavier counterparts."
At the same time, because of the hollow structure of the fiber, fabrics made with Meryl Nexten exhibit a high resistance to tears and abrasions, said Dunn.

Lightweight Strength And Thermal Protection

While Meryl Nexten is extremely lightweight and strong, it also provides thermal insulation properties. Compared to standard polyamide fabrics of the same weight, it provides a more than
25-percent greater degree of insulation, making it particularly suitable for winter protective garments, such as ski jackets. The combination of lightness and thermal protection in thinner fabrics makes them desirable for thermal underwear applications as well as protective lingerie and hosiery.
The air in the hollow center of the Meryl Nexten fiber also improves the thermal insulation properties of the fabric when wet. Tests simulating an average perspiration situation have shown a temperature perception difference equal to +3°C for Meryl Nexten.
Meryl Nexten is suitable for both woven and knitted fabrics. Nylstar claims it is very soft when mixed with natural fibers, and gives a high-tech, rubbery or shiny effect in knitted garments.
---
For more information about Meryl Nexten, contact Lisa Bahaw-Thornton, Quixote Group LLC, (336)
544-2424.
---
May 2001