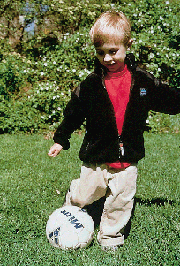 P
olartec®'s family of technical fabrics for outdoor apparel includes three categories: next-to-skin, thermal and weather protection. As a thermal fabric with wind-protection properties,Wind Pro™ has been engineered to be used as the middle or outer layer for outdoor apparel worn during climbing, snowboarding, back-country skiing and other high-exertion activities. This versatile outerwear fabric is distinct from Polartec's other thermal fabrics as well as its other wind-protection fabrics, both in performance and in appearance.
Fleece Vs. Laminates
The technology behind Wind Pro addresses two concerns of outdoor enthusiasts. Traditional fleece is comfortable and provides warmth and breathability, but it does not do an exceptional job of protecting the wearer against the wind. Fabrics can be laminated to make them windproof, but while the laminate may stop the wind from passing through the fabric, it also reduces the breathability of the fabric.
Wind Pro is knitted using proprietary microfiber yarns in a very tight construction that blocks the wind. This provides four times more protection than Polartec's traditional fleece and improves breathability over Polartec's other wind-protection fabrics. Better breathability allows
better transfer of perspiration through the fabric to dry on the surface.
The dense, low-pile, suede-look face of the fabric acts as a wind block, preventing 95 percent of the wind from passing through, according to Malden Mills, Lawrence, Mass., manufacturer of Polartec Wind Pro. The surface also repels rain and snow, is quick-drying and resists compression. Air pockets in the pebbled back of the fabric trap body heat, providing lightweight insulation and offering twice the wind-chill protection of traditional fleece. Within the fabric, good air circulation improves breathability and lessens the risk of heat-stress build-up.
The fabric is finished on both sides to provide maximum durability. It is non-pilling and will retain its appearance and insulating properties even after continued use and laundering.
"Each of our wind-protection fabrics is designed to address certain outdoor needs," said Jeff Bowman, Polartec brand manager. "Together they represent a full range of fabrics for any outdoor pursuit or level.
"We put a high priority on… research and development to ensure we are meeting the needs of the outdoor industry. Our wind-protection line is a dynamic collection that will continue to grow in line with the interests and demands of our customers."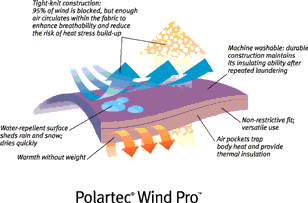 ---
For more information about Polartec Wind Pro, contact Anne Tommasi, Malden Mills, at (978)
659-5113.
---
September 2000