According to the U.S. Consumer Products Safety Board, an average of 1,000 bicyclists die each year in accidents. One third of these accidents occur at night.
Reflective Technologies Inc., Cambridge, Mass., has created a technology to convert proprietary materials into miniature reflectors that, when imbedded into fabric by the millions, reflect oncoming light, such as automobile headlights, in a way that illuminates the full silhouette of a person, bicycle or any other object.

IllumiNITE Technology

The new product is being produced under the name illumiNITE®. Its patented five-step manufacturing process converts miniature glass beads into a highly reflective material that the company calls sataLITE DISH® reflectors.
The sataLITE DISH reflectors are smaller than a grain of sand and finer than a human hair. They can be imbedded into the weave of almost any fabric, the company says. The end result is a fabric that remains soft to the touch and retains its function and fashion. During the day, illumiNITE-treated fabrics are indistinguishable from untreated fabrics.
At night, however, the illumiNITE fabrics reflect light back at its source at full radiance, illuminating the full silhouette of any object it covers. This fuller visibility allows oncoming motorists to identify an object, determine its distance and movement and safely avoid it. This provides greater safety protection than the traditional reflective strips and tapes, which do reflect light, but fail to provide a full silhouette of a jogger.
"Our mission has been to enhance consumer safety by creating garments that tell the full story when a light hits them," said Adam Rizika, president and a CEO of Reflective Technologies. "With illumiNITE, motorists and others can actually see a jogger, bicyclist, walker or roller
blader. Their entire silhouette comes to light.
Yet the garment itself is still soft to the touch and appears indistinguishable from non-illumiNITE treated fabric in daylight."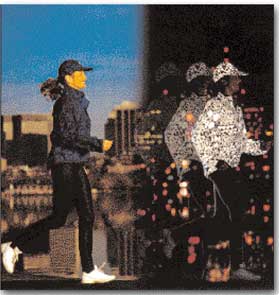 With IllumiNITE-treated fabrics, oncoming motorists can see the full silhouette of a
nighttime jogger.

Joint Ventures

Recently, Formosa Taffeta Co. Ltd., (FTC) teamed with Reflective Technologies to produce a broad range of fabric applications at Formosa's Asian production facilities.
Under the agreement, 10 new woven fabrics are being introduced, while several others are under development. FTC will also offer a range of moisture management and waterproof finishes as part of the expanded illumiNITE Weather System®.
Reflective Technologies has also announced that illumiNITE Cordura® 500 denier fabric has successfully met DuPont Cordura's testing criteria, and has been certified as part of the Cordura branding program. End-uses for this is specified for daypacks, backpacks, trekking boots, career
apparel/workwear and motorcycle suits.
DuPont Cordura and Reflective Technologies will provide educational initiatives at the trade and retail levels to inform manufacturers and consumers to the benefits of illumiNITE-treated apparel.
The illumiNITE Cordura 500 denier fabric has been adopted by a number of leading brands worldwide, including L.L. Bean, Outdoor Products, Eddie Bauer and Performance Cycle.
Reflective Technologies' other customers and partners include adidas, NIKE and Malden Mills.
---
For more information about illumiNITE
or Reflective Technologies Inc., contact Elizabeth Goodrich at Gregory Communications at (610)
642-8253.

---

September 1999