The U.S. Grains Council, Washington, D.C., along with Cargill-Dow Polymers and the Kanebo spinning company, Japan, are spearheading a drive to introduce to U.S. consumers, a new and innovative kind of fabric that is made of corn.
Polylactic acid fiber (PLA) was unveiled at the U.S. Grains Council's Value-Enhanced Grains Conference held recently in Orlando, Fla. There, Kanebo held a fashion show that introduced a variety of clothes made from PLA blended with other fabrics. All of the clothing was designed by
Masako Oka, one of Japan's leading fashion designers.

Ecologically Sound

The theme of Kanebo's fashion show was "Fashions for the Earth," a theme that highlighted PLA's most unique feature — its environmental friendliness.
PLA is a completely biodegradable synthetic fiber. According to the Grains Council, when the fabric is discarded, soil and sea microorganisms break the material down into carbon dioxide and
water.
Even when incinerated, PLA does not release any harmful gases such as dioxin. According to Kanebo, this makes it an ideal synthetic fiber for the new century because it turns into natural substances through non-polluting processes. This feature is extremely important in Japan, because the country has a significant waste disposal problem. The government is taking drastic measures to try to solve that problem.
According to Dennis Kitch, the Grains Council's director in Japan, the Japanese market for recycled products is saturated. Because of this, Japan is working to develop packaging alternative, such as biodegradable plastics.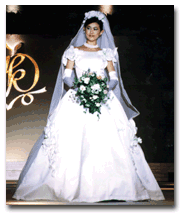 A wedding dress made of 100-percent polylactic acid corn fiber
(Photo courtesy of The U.S. Grains Council).

Bold Fashion Frontiers

At the same time Japan was trying to develop packaging alternatives, U.S. producers and agribusinesses were working to find new uses for U.S. corn, an abundant product.
Within the past two years, Cargill-Dow Polymers has created PLA from melt-spinning polylactic acid, which is a polymer of the lactic acid produced through fermentation of cornstarch. They found a buyer for PLA in the Kanebo company, which had also been studying the use of corn fiber in fabric. The companies discovered that when blended with cotton or wool, the PLA proved to be a silky but durable fabric for a variety of clothing ranging from T-shirts to suit jackets, and even
wedding gowns.
PLA has similar properties of existing synthetic fibers and has enough durability under normal use. It has luster and feels like silk. It also has quick-drying properties and is wrinkle resistant.

Future Benefits

According to the Grains Council, if PLA fabrics are adopted, the result could be a significant new market for U.S. corn growers. Use of the fabric may already be poised to take off in Japan.
Kitch said that Japan's food service and restaurant industry may contract with Kanebo to develop standardized uniforms. If that happens, Kitch reports that the industry could need as many as one million uniforms a year.
PLA can be processed into staple fibers, chopped fibers, multi-filaments, monofilaments and spunbond. This means it can be used in agriculture and landscaping applications such as plant mats and nets to protect young trees from animals, as well as applications including sanitary and
medical products and food packaging materials.
June 1999