BASEL, Switzerland — September 21, 2023 — Arxada, a global, science-based provider of innovative specialty chemicals, today announced the appointment of Sanjeev Rastogi as CEO, effective immediately. Concurrently, Marc Doyle who has successfully led Arxada since its foundation, will transition to a new role as a member of the Board of Directors. This strategic move reflects the company's commitment to driving continuity, growth and sustainability in its portfolio.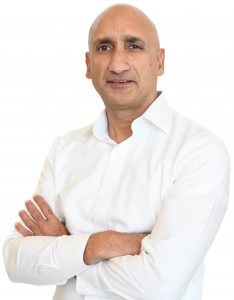 Rastogi joined Arxada in April 2023 as president of the Consumer Microbial Control (CMC) business. With 30 years of industry experience, he has a proven track record of profitability, growing and building businesses through his strategic thinking, marketing excellence and operational expertise. Rastogi is accomplished in building high-caliber teams that execute effectively, while building sustainable portfolios. During his tenure with Arxada, he has quickly and positively impacted the CMC business, reflecting an innovation-forward and customer-centric approach. Rastogi intends to continue driving the company with a focus on the disruptive, sustainable innovations Arxada's customers seek along with further developing a performance-based work culture.
"I am both honored and excited to take on the role of CEO at Arxada," Rastogi said. "It is a privilege to lead such a talented team and work alongside dedicated colleagues who are committed to delivering exceptional results. I am grateful to Marc Doyle for his strong contributions and his tireless commitment to the business. I look forward to building upon the robust foundation he has laid. Additionally, I am eager to take Arxada to its next level, together with a first-rate team, navigating the evolving landscape of our industry as we strive to be the preservation go-to within specialty chemicals."
Before joining Arxada, Rastogi served as senior vice president for Hexion's Resins and was Vice President of Honeywell's Fluorine Products businesses. He has an MBA in finance from the Stern School of Business at New York University and a PhD in chemical engineering from the University of Delaware.
"My time with Arxada has been a unique and rewarding opportunity," Doyle said. "I look forward to staying involved as a member of the board and know I am handing Arxada's leadership over to very capable hands."
Doyle joined what is now Arxada in July 2021 upon the acquisition of Lonza Specialty Ingredients (LSI) by private equity firms Bain Capital and Cinven. His leadership was pivotal during the carve-out phase and the acquisitions of both Troy Corporation and Enviro Tech Chemical Services. The clear and concise business strategy he developed helped establish the business for its future growth trajectory. Doyle will join the board as a non-executive member and will continue to remain involved in guiding Arxada's path forward.
Posted: September 21, 2023
Source: Arxada