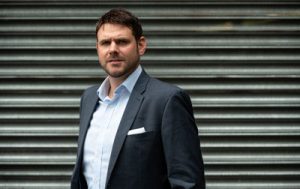 CONGLETON, England — June 22, 2023 — The co-founder of England-based Meryl Fabrics® has been announced as a NW regional finalist in a trio of categories in the prestigious Great British Entrepreneur Awards 2023.
Kevin Simpson has been honored with the accolades of Sustainability Entrepreneur of the Year, The Maker and Creator of the Year and Equity Backed Entrepreneur of the Year in the highly regarded awards initiative which "celebrates the exceptional achievements and impact of entrepreneurs across the United Kingdom, showcasing their outstanding contributions to their industries and communities."
The recognition follows a record year of awards in 2022 for Meryl Fabrics®, which chalked up an impressive 11 winner, highly commended and finalist trophies presented by international and U.K. bodies in recognition of their firm's major achievements in achieving sustainability with textile innovation. And following on from this the pioneering firm has secured another 4 major finalist accolades in the first quarter of 2023.
Most notably the firm was named Winner of the Circular and Recycling Award, National Sustainability Awards 2022; Winner – Industry Award for Sustainability, Professional Clothing Industry Association Worldwide Ltd (PCIAW®) and Winner of the Sustainability Award, Med-Tech Innovation 2022.
"It is an honor to receive such distinguished and much-coveted recognition for our efforts to revolutionize the way we think about, use and dispose of textiles," Simpson said. "Our company is hugely passionate about mitigating the adverse impact that the textile industry is having on our environment, with the development of highly innovative yarns and fabrics which do not release microplastics, are manufactured with minimal water consumption and no use of chemicals, and are 100 percent recyclable."
Driven by problem solving, the award-winning Meryl Fabrics uses Nylstar Hydrogen bonding technology to enhance the molecular structure of fibers; seal-in microplastics within the yarn and improve the durability of garments. Their continual innovation in Meryl Eco Dye offers a waterless dyeing process, saving thousands of liters of water during manufacture of fabric as they re-engineer the present of apparel. Meryl Fabrics seeks to replace cotton with its exceptionally soft touch fabrics that feature natural stretch and moisture management properties that are designed to be recycled and offer other businesses a fully circular model in one place.
Posted: June 22, 2023
Source: Meryl Fabrics®