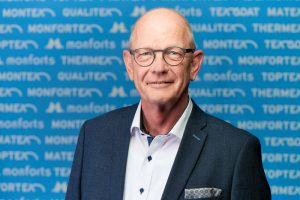 MÖNCHENGLADBACH, Germany — January 10, 2023 — Gunnar Meyer has been assigned the new managing director of A. Monforts Textilmaschinen GmbH & Co. KG in Mönchengladbach, Germany, as of January 1, 2023.
Meyer started his career with Monforts and has spent his whole working life in the textile machinery industry. Between 1985 and 2010 he was a key part of the Monforts team in various roles related to sales and commercial issues, including as general sales director. He returned to the company in 2019 after working for other well-known German textile machine manufacturers in the field of nonwovens and is now looking forward to meeting the worldwide Monforts network of customers and suppliers at the forthcoming ITMA 2023 exhibition in Milan.
"ITMA serves as an excellent platform for networking and meetings with key players again, after a long time," he said. "Keeping good relationships with customers is essential, because what they buy from us is an investment in their future and they need to trust in our continued support. Working in other parts of the textile industry, I have gained a lot of experience in the management of complex technical textile projects and my special focus will certainly be on challenges like the current energy crisis, alternative heating systems and sustainable textile finishing." A. Monforts Textilmaschinen GmbH & Co. KG was founded in 1884 and today is a leading supplier of textile dyeing and finishing machines as well as coating devices. The company is a market leader for tenters, continuous dyeing ranges, sanforizing ranges and special executions for denim and for the coating of technical textiles and other special applications. The company is headquartered in Mönchengladbach, Germany.
At its Advanced Technology Center (ATC) customers can undertake fabric trials on the latest Monforts equipment under real production conditions. For over 40 years, the company`s production site has been in St. Stefan, Austria. Monforts is a member of CHTC Fong's Group
Posted: January 10, 2023
Source: A. Monforts Textilmaschinen GmbH & Co. KG