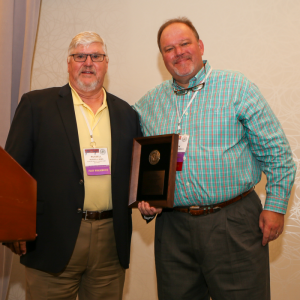 HILTON HEAD ISLAND, S.C. — June 29, 2022 — Russell Mims, who spent his 41-year career in the textile industry, was awarded the highest award conferred by the Southern Textile Association (STA), the Steve Epps Lifetime Service Award.
The Steve Epps Lifetime Service Award honors members who have been a member of association for 20 years or more, are retiring or have retired, served the association in many capacities of leadership and service during their years of membership. Steve Epps served as president of STA in 1985-86 and remained an active member of STA until his death in 2010. Recipients are selected by vote of the Board of Governors.
The presentation was made during the STA Business Breakfast Session of the Joint Annual Meeting of the STA and Fiber Buyers Groups at The Sonesta Resort at Shipyard Plantation. The award was presented by Ed Cox, plant manager at Elevate Textiles.
Mims graduated from the University of South Carolina with a degree in Business Administration in 1976. He joined Cone Mills as a management trainee in 1977. During his time with Cone he was a supervisor and department manager in carding and spinning at Minneola Plant as well as an assistant plant manager at the Haynes Plant.
In 1989 he left to work for Parkdale Mills in Belmont, N.C., where he was plant manager for two different Parkdale plants. He also worked as plant manager for R.L. Stowe Mills in Belmont. In 2001 he became Vice President of Manufacturing for Buhler Quality Yarns in Jefferson, Ga. He stayed with Buhler for 17 years before retiring in 2018.
During his career, he began his STA journey by attending his first meeting in 1977 while working at Cone Mills. He went on to serve as North Carolina Division vice chairman. After moving to the Piedmont Division, he served as Piedmont Division vice chairman and chairman. He also served on the Board of Governors as first vice president, president (2004-05) and chairman (2005-06).
After retirement, he and his wife Joan moved to Indian Trail, N.C. They have two children and two grandchildren.
Posted July 5, 2022
Source: Southern Textile Association