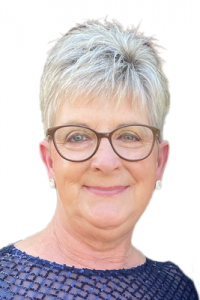 SMITHSBURG, Md. — July 1, 2022 — Lillian Link, secretary/treasurer of the Southern Textile Association (STA), announced her retirement from the association after a 27-year career in that position and nearly a half century of textile association management.
Link's retirement is effective July 1, when the STA's new fiscal year opens.
Devin Steele, founder and publisher of eTextileCommunications.com, Greenville, S.C., has been elected by the STA Board of Governors to succeed Link. He will be assisted by Sandy Hamilton, administrative assistant at Gaston College Kimbrell Campus & Textile Technology Center.
During the STA's/Fiber Buyers Joint Annual Meeting this week on Hilton Head Island, S.C., Link was presented the prestigious Chapman Award, established to recognize individuals for exemplary and outstanding service and leadership to the textile industry. The Chapman Award was established by the STA in 1984 in honor of three members of the Chapman Family of Inman Mills and Inman, S.C., who served as presidents of STA — James A. Chapman Sr. in 1923, James A. Chapman Jr. in 1955 and Joseph W. Chapman in 1972. She also was named a lifetime member of the STA's Board of Governors.
Link, with the assistance of the STA Executive Committee and Board of Governors, has helped guide the association through times of evolution and contraction for the U.S. textile industry, and the STA has remained a viable and valuable source for the sector. This is especially true as membership sought information and engagement during the industry's transitory years.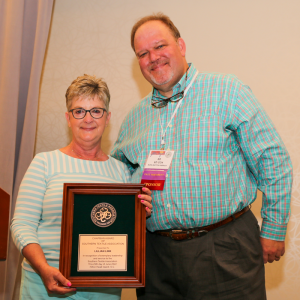 In its 114-year-old history, the STA has survived world wars, pandemics, a Great Depression, recessions, economic turmoil and more, but continues to thrive, thanks in part to Link's steadfast leadership.
Link began her textile career in 1977 when Jim Conner, then executive vice president of the American Yarn Spinners Association (AYSA) asked her to join the organization when she was working as a bank teller. Accepting the position was "a no brainer and a blessing in disguise," she said. "During my time with AYSA, Jim taught me everything I know about association management, and I loved the work."
In addition to the AYSA, she was tasked to also manage another association under its auspices: the Textured Yarn Association of America (TYAA), which later became the Synthetic Yarn and Fiber Association (SYFA). Shortly thereafter, the Carolinas Textile Club was added to her responsibilities.
In 1995, the AYSA took over the management of the Southern Textile Association, and Conner added that group to Link's management responsibilities, as well.
"I have been so lucky to have had a job that I loved for the past 45 years," Link said. "Over the years, I have come to love my STA family — and they are family! I cannot say enough good things about the support of the STA Board of Governors and past presidents who continue to be involved in the day-to-day operations of the association. I really appreciate them putting their trust in me for the past 27 years. It's been a great ride and I cannot wait to see where Devin Steele takes it from here!"
Steele, who has covered the association for about 25 years for eTC and previously Southern Textile News (STN), joined its Board of Governors in 2016. He said he has huge shoes to fill.
"Lillian is synonymous with the Southern Textile Association, and she has done a terrific job keeping the association relevant and robust as the textile manufacturing landscape has changed over the last quarter century," he said. "It's difficult to fathom the STA without her constant presence at its functions. She is like the duck that you see only above the water — because everything always goes smoothly at STA meetings, but what you don't see is her constant paddling under the surface to make sure everything goes seemingly effortlessly. Lillian is a dear friend, and I wish her all the best in her much-deserved retirement."
STA Chairman Rick Carpenter, sales manager at Sonoco Conitex, said: "Serving as president, I have really grown to appreciate the work Lillian does behind the scenes to make our meetings and events successful. The past two years have been especially challenging as we worked through the pandemic, and she never wavered. I have been a member of the STA for 23 years, and I cannot imagine a meeting or event without her dedicated leadership. She will always be a part of STA, and I hope we will still see her and (husband) Mike at some of our events. STA is our textile family. On behalf of our membership, we wish Lillian a wonderful retirement and wish Devin good luck as he takes the helm of this great organization."
Posted: July 5, 2022
Source: The Southern Textile Association Inc.