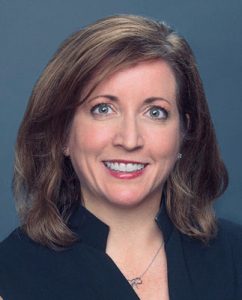 SPARTANBURG, S.C. — March 4, 2021 — Milliken & Company is pleased to announce Cindy Boiter has been promoted to executive vice president and president of Milliken's Chemical Division. Effective March 15, she will step into the role currently held by David Moody as he transitions to a role outside of Milliken.
"It is an exciting appointment for our company, as Cindy will become the first-ever woman division president at Milliken," shared Halsey Cook, president and CEO for Milliken. "She is uniquely qualified to lead our chemical division thanks to her extensive experience in the division, the acquisitions she has completed and her embodiment of Milliken's purpose."
Boiter joined Milliken's Chemical Division in 2012 as marketing, strategy and business development director and progressed to become the division's CFO, where she played an integral role in its rapid growth. In 2018, she transitioned to Milliken's chief strategy officer, where she led the company's 2025 strategic planning initiatives and oversaw two significant acquisitions. Boiter is a recipient of the Milliken Honors Award for Diversity and Inclusion and is an active ally for associates worldwide.
"We also want to take a moment to thank David Moody for his 33 years of service at Milliken and wish him well as he moves to the next stage of his career," Cook concluded.
Posted March 4, 2021
Source: Milliken & Company