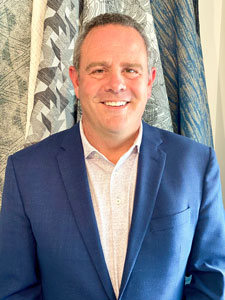 BLOOMFIELD HILLS, Mich. — November 19, 2020 — Lance Keziah, CEO of the Crypton Companies — providers of performance textile technologies — has announced that Brian Burke has been appointed vice president of Product Development for Abercrombie Textiles, a North Carolina textile mill which Crypton acquired in October 2019. With decades of expertise in mill management and a record of proven business growth, Burke will play a pivotal role in the ongoing growth and expansion of Abercrombie.
Burke's broad range of experience encompasses many facets of business management including operations oversight, strategic planning and execution, and product development. Most recently he was director of Operations for Glen Raven Custom Fabrics LLC in Sunbury, Pa. Prior to that he served as vice president of Operations for Sunbury Textile Mills after a decade there serving as Quality Assurance and Product Development manager.
"Brian is a tremendous addition to the Abercrombie/Crypton team. I've worked with Brian for over 20 years during his years at Sunbury and later Glen Raven and have long respected his passion for textiles and deep operational knowledge," said Keziah, who helms Abercrombie as part of his CEO duties at Crypton. "Brian and our Executive Vice President of Operations Ernest Benbassat, possess the ideal leadership skills and vision to take Abercrombie to a new level."
Said Burke: "I'm thrilled to join this amazing team, having long admired the innovation, dedication and leadership of Crypton. Also, I'm impressed with Abercrombie's strong foundation and exciting opportunities for growth. I look forward to an immediate bright future for this American mill."
A new empty-nester, Burke says he looks forward to relocating from central Pennsylvania to western North Carolina with his wife Stephanie. The couple look forward to their three children visiting often. Burke assumes the new position immediately.
Posted November 19, 2020
Source: The Crypton Companies