---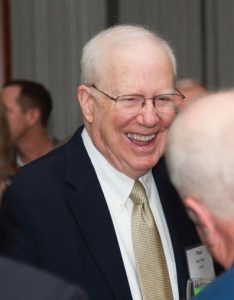 American Fiber Manufacturers Association (AFMA) President Paul T. O'Day recently passed away. Fiercely dedicated to the industry he loved, Paul led AFMA from 1984 to 2017 with a sophisticated wit and a powerful intellect. He was a true gentleman, always gracious and emphatically willing to help others; and his dedication and extraordinary contribution to the industry has been recognized by industry leaders from the United States and across the globe.
"Paul was not only a great man, but he was also a friend and confidant to so many of us in the industry," said Mark J. Ruday, AFMA chairman, and senior vice president, Fibers, DAK Americas LLC.
"Paul was a pillar of the textile trade community and provided unfailingly wise counsel to U.S. policymakers for many years," said Bill Jackson, assistant U.S. Trade Representative for Textiles, Office of the United States Trade Representative. "He was also an uncommonly kind man who brightened any gathering with his good humor and deep well of stories. He will be greatly missed."
"Paul gave a lifetime of service to manufacturing  and particularly the textile industry," saidJay Timmons, president and CEO, National Association of Manufacturers. "Paul left a lasting footprint on the business community, his state and his country."
"Famously courteous and humble, Paul won heated policy debates through the power of his extraordinary intellect, his expansive institutional knowledge and his total command of the subject matter at hand," said Auggie Tantillo, president & CEO, National Council of Textile Organizations. "Completely secure in his role and the critical contribution he made to every project, Paul was always quick to defer credit and to shower praise on his colleagues."
"Paul was highly regarded by all for his knowledge, hard work and professionalism," said Tom Dobbins, president, American Composites Manufacturers Association. "Personally, he brought joy to everyone who knew him. A great light has gone out of the world and I will always feel that loss."
"When I was new to the textile industry, Paul welcomed me," said Jenn Stowe, vice president, Government Relations, The Carpet and Rug Institute. "He was a great source of industry history and knowledge. He was a resource and a role model. He will be sorely missed."
The AFMA staff would like to thank Paul for his guidance and wisdom, for his strength and tenacity and for the honor and privilege of his leadership and friendship. Paul inspired us all and will be fondly remembered always.
— The AFMA Staff
---
Japan-based Shima Seiki Mfg. Ltd. has announced Mitsuhiro Shima as the new president and representative director and director of sales headquarters. His father, Masahiro Shima, company founder and president, now is chairman of the Board of Directors.
Patrik Frisk is the new president and COO of Baltimore, Md.-based Under Armour Inc. The company also recently named Paul Fipps chief technology officer; Colin Browne chief supply chain officer; and Kevin Eskridge chief product officer.
---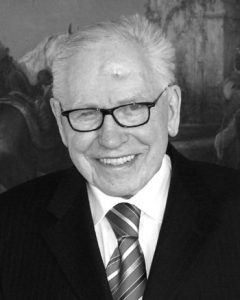 Gerold Fleissner (1924-2017)
Gerold Fleissner, a pioneer in the world of man-made fibers and nonwovens, recently passed away at the age of 92. The Fleissner company dates back as far back as 1848, but the company fully established itself in the textile drying market in 1929 when Gerold's father, Hans Fleissner, developed and patented the first perforated drum dryer. In 1968, Hans handed management of the company to his two sons, Gerold and Heinz; and in 1984, Gerold became solely responsible for managing the business after his brother passed away. As the business grew, Fleissner became a leading manufacturer of processing lines for nonwovens. The AquaJet hydroentangling system introduced a new way to produce nonwovens. Over the years, Gerold also continued to refine and optimize his father's perforated drum drying principle to meet the demands of modern production lines.
With no successive heir, Gerold sold the company to Germany-based Zimmer AG in 2003 — and in 2006, Trützschler GmbH acquired the Fleissner business from Zimmer — but he still worked in the industry with the Fleissner Nonwovens Ansbach company selling conveyor belt oven lines for drying and thermobonding of waddings. Gerold also continued to engineer advanced versions of the drum dryer featuring improved air flow and temperature uniformity. This company was closed in 2009 as he advanced in age.
Gerold's dedication, vision and loyalty to the textile industry will be remembered by all who knew him.
---
July/August 2017