The American Down and Feather Council (ADFC), New York City, named David Sweet president.
Schoeller USA president Tom Weinbender has added the role of associate at Scotland-based Halley Stevensons.
Pompano Beach, Fla.-based Valley Forge Fabrics has appointed Vanesa Patino vice president of operations.
Fairfield, N.J.-based PureCare® has appointed Anthony Petrucci director of sales for the East Coast.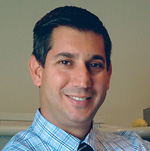 Petrucci
Andrew Rodger has joined CIMdata Inc., Ann Arbor, Mich., as a senior business development manager.
Cynthia DiPietrantonio has joined SHEEX Inc., Irmo, S.C., as the company's new president.

Outdoor Industry Association® (OIA), Boulder, Colo., has named Steve Barker, founder and former owner of Eagle Creek, interim executive director. A search currently is underway for a permanent leader.
Gary Cornell, Q-Lab, recently was elected chairman of ASTM International's Subcommittee D20.61 — the technical advisory group to ISO TC61, the ISO standards committee on plastics.
Nextremity Solutions Inc., Warsaw, Ind., has named Nick A. Deeter CEO and chairman of the Board of Directors.
The Moore Co., Westerly, R.I., has promoted Andrew Dreher to president; Cita Streiff to director of sales; and Brad Pack to sales manager, Specialty Products.
Finland-based Ahlstrom Corp. recently restructured its organization and made the following appointments within its executive management team: Sakari Ahdekivi, CFO; Ulla Bono, executive vice president, Legal, General Counsel; Fulvio Capussotti, executive vice president, Building and Energy; Omar Hoek, executive vice president, Food and Medical; Jari Koikkalainen, executive vice president, Filtration; Nadia Stoykov, executive vice president, Commercial Excellence; Päivi Leskinen, executive vice president, Human Resources.
Additional appointments as part of the restructuring include: Paul Stenson, executive vice president, Filtration Product Development; Roberto Boggio, executive vice president, Operations, Food and Medical; and Arnaud Marquis, vice president, Wallcover and Poster business.
Maine Textiles International LLC, Biddeford, Maine, has named Mark W. Boyer CEO.
Todd Copeland, environmental responsibility manager, Patagonia; and Jason Duncan, technical apparel product manager, Outdoor Research, were presented Individual Contribution Awards during the Outdoor Retailer Winter Market 2015 for their dedication to the outdoor industry's chemicals management efforts.
Westport, Conn.-based HemCon Medical Technologies Inc. has announced the following promotions: Dr. Simon McCarthy to Science & Technology Fellow; Dr. Brian Clare, vice president of innovation; and Dr. Maire Ni Beilliu, vice president, regulatory affairs & quality systems. Stuart Sands has been appointed COO in addition to his role as CFO.
Bozeman, Mont.-based TexBase has added Donny Askin to its Board of Directors.
The Cordova, Tenn.-based National Cotton Council of America (NCC) elected the following 2015 officers at its recent annual meeting: Sledge Taylor, chairman; Shane Stephens, vice chairman; Clyde Sharp, secretary-treasurer; and David Hastings, vice president. Re-elected to the position of vice president by industry segment are: Sid Brough, Ginner; Coalter Paxton III, Warehouseman; Joe Nicosia, Merchant; Meredith B. Allen, Cooperative; and John C. Fricke, Cottonseed. NCC also awarded Woody Anderson the 2014 Harry S. Baker Distinguished Service Award, and named Richard Kelley the 2014 Horace Hayden National Cotton Ginner of the Year.
At the recent NCC Annual meeting, the Washington-based Cotton Council International (CCI) elected the following officers for 2015: Dahlen K. Hancock, president; Keith Lucas, first vice president; Anthony Tancredi, second vice president; Stewart Weaver, Jr., treasurer; Gary Adams, secretary; Vaughn Jordan, assistant secretary; and Lee Cromley and Craig Heinrich, 2015 CCI directors.
March/April 2015