Seattle-based
Schoeller Textil and Technologies USA's
Shannon Walton has resumed her position as public relations and marketing manager,
North America.
The
University of Tennessee Nonwovens Research Laboratory, Knoxville, Tenn., has named
Dr. Rohit Uppal research associate.
Germany-based
DyStar Textilfarben GmbH & Co. KG has named
Viktor Leendertz CFO and chief transformation officer.
The Textile Museum, Washington, D.C., has elected
Paul N. Schwartz to the Board of Trustees.
Fort Myers, Fla.-based
Chico's FAS Inc. has named
Rochelle Udell senior vice president, creative director for the Chico's brand.
The
Carpet America Recovery Effort, Dalton, Ga., has named
Georgina Sikorski executive director.
Wilmington, Del.-based
DuPont has elected
Samuel Bodman to its Board of Directors.
Cary, N.C.-based
[TC]
2 has elected the following to its Board of Directors:
Carmen Covelli, Invista;
John Crisco, Asheboro Elastics Corp.;
Chris DeSoiza, Milliken & Company;
Steven A. Jesseph, Worldwide Responsible Accredited Program; and
Janet Rivett-Carnac, Gap Inc. The board has appointed
Chuck Nesbit, Chico's FAS Inc., vice chairman of [TC]
2.
Los Angeles-based
Talon International Inc. has promoted
Larry Dyne to president.
Dr. Stefan Mecheels, Hohenstein Institute, has been named vice president of the
Executive Committee of the
RAL German Institute for Quality Assurance and Certification.


Dr. Stefan Mecheels

The Hohenstein Textile Testing Institute, Germany, has given
Robert C. Steiner, ALSCO USA, the Hohenstein Award for Entrepreneurial Excellence
in Global Textile Services.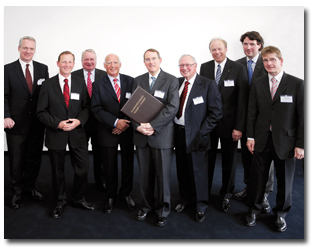 Robert C. Steiner received the Hohenstein Award for

Entrepreneurial Excellence in Global Textile Services.


Pasadena, Calif.-based
Avery Dennison Corp. has named
R. Shawn Neville group vice president, Retail Information Services.
The Washington-based
National Council of Textile Organizations (NCTO) has elected
Wally Darneille, Plans Cotton Cooperative Association, chairman; and
David Hastings, Mount Vernon Mills Inc., vice chairman. NCTO also has appointed
Cass Johnson, NCTO, president and CEO;
Mike
Hubbard, NCTO, vice president and secretary; and
Werner Bieri, Buhler Quality Yarns Corp., treasurer.
Youngsville, N.C.-based
Xerium Technologies Inc. has appointed
David G. Maffucci executive vice president and CFO.
The
Association of Italian Textile Machinery Manufacturers (ACIMIT), Milan, has named
Sandro Salmoiraghi, Salmoiraghi S.p.A., president.
The
American Association of Textile Chemists & Colorists (AATCC), Research
Triangle Park, N.C., has named
Ashley E. Bradham, North Carolina State University (NCSU), its 2009 Outstanding
College Graduate of the Year. AATCC also has announced the 2009 Materials Design Competition
Winners: First Place to
Elizabeth Hathaway,
Amanda Shearin,
Ashley Amick and
Ivy Bunn, NCSU, for Temp-A-Tote: Solving the Dilemma of Storing Portable
Electronics in Automobiles; Second Place to
Jinmei Du, NCSU, for Design and Preparation of Super-hydrophobic and
Anti-microbial Fabric.
Paris-based
Lectra has appointed
Hervé Claverie director of projects and strategic accounts worldwide.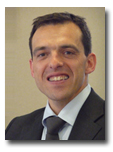 Hervé Claverie
The Boston-based
National Textile Association (NTA) has awarded
Matthew R. Lamoureux the NTA Bronze Medal.
The
European Association for Textile Polyolefins, Brussels, has appointed
Selim Akdoğan chairman.

Selim Akdoğan
June 2009