Kevin M. Burke
has assumed the presidency of
American Apparel And Footwear Association (AAFA), Arlington, Va., following the
retirement of

Larry Martin
.
The Textile Education Foundation Inc. (TEF), Atlanta, has elected

J. Tom Watters, Jr.
, Syntec Industries, Rome, Ga., president;

Richard P. Strawhorn
, Mohawk Industries, Calhoun, Ga., vice president; and

Lee S. Bryan
, Mount Vernon Mills Inc., Trion, Ga., treasurer. Elected to serve three-year terms on the
Board of Directors were;

Ann Dorsey
, Beaulieu of America, Atlanta;

Scott R. (Rip) Johnston
, SI Corp., Chickamauga, Ga.; and

Douglas R. Tingle
, 1888 Mills, Griffin, Ga. Elected to fill unexpired terms on the Board were

John Cahill
, Royal Ten Cate (U.S.A.), Duluth, Ga.; and

Trey Hodges
, Swift Spinning, Columbus, Ga. Re-elected were

Roy Bowen
executive vice president and

Suzanne Wilkes
secretary.
Belgium-based
European Disposables and Nonwovens Association (EDANA) has elected three governors
to its Board:

Thomas Olsson
, Mölnlycke Health Care AB, Sweden;

Paul Eevers
, Unilever FBE Supply Co., Belgium; and

Marko Rajamaa
, Buckeye GmbH, Germany.
The Board of Directors of
Unifi Inc., Greensboro, N.C., appointed two new Board members:

William (Billy) J. Armfield
, Spotswood Capital, Greensboro; and

Sue Cole
, U.S. Trust Company of North Carolina, Greensboro.
Christian Maier GmbH & Co., Rotary Joint Division, Germany, has selected

B. Austin Robinson
as sales and marketing director for the United States and Mexico for the newly opened Maier
America LLC distribution, training and service center in Duluth, Ga.
The
United States Chamber of Commerce, Washington, Board of Directors has elected

Larry A. Liebenow
, Quaker Fabric Corp., Fall River, Mass., vice chairman for 2001-2002. Liebenow also serves
as director of the American Textile Manufacturers Institute (ATMI), Washington.

Mike Todaro
of American Apparel Producers' Network (AAPNetwork), Atlanta, was elected to the Board of
Trustees of
Caribbean/Latin American Action (C/LAA), Washington.



Thomas Gerhard
was appointed president and CEO of
Scholl Switzerland AG, Switzerland.

Beat D. Geissbühler
and

Thomas Widmer
have been named executive vice presidents of the company.
Harriet & Henderson Yarns Inc., Henderson, N.C., has elected

Allison C. Zollicoffer
vice president, marketing.


Improved Technologies, Northfield, N.H., announced the appointment of

Alison Hardy
as director, Textile Division;

Steve Potthoff
, vice president, sales; and

Robert Degerstrom
as director, channel sales.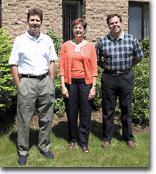 Henry Surratt
, Springs Industries Inc., Fort Lawn, S.C., was elected president of
Southern Textile Association (STA), Gastonia, N.C. He succeeds

Dan Nation
of Parkdale Mills Inc., Gastonia, who was elevated to chairman of the Board of Governors.

Larry Oates
was elected first vice president;

Mike Godfrey
, second vice president; and

Lee Thomas
, member-at-large.

Lillian Link
remains secretary/treasurer. Elected to the Board of Governors for four-year terms are

Steve Adams
,

Bo Bonner
,

Terry Hines
,

James Maddox
and

John Nims
.
Kellwood Co., New York City, has appointed

John R. Henderson
executive vice president of Sag Harbor and women's special markets.

Paul A. Robb
has joined the company as president of Slates Menswear Division.
Richmond, Va.,-based
Alloy Polymers Inc. has appointed

James R. Jandora
, vice president, sales and marketing.
Brandon International, Industrial Sewing Division, Baldwin Park, Calif., named

Tom Stavinoha
eastern regional sales manager.

WestPoint Stevens Inc., West Point, Ga., announced

Steve McGee
has joined the company as vice president, sales, for Wal-Mart and JCPenney. New key
assignments to the Basic Bedding business include

Alan F. Kennedy
, vice president, merchandising;

Scott D. Howard
, vice president, sales; and

Thomas C. Burke
, vice president, business operations. In addition,

Robert P. Fleischer
was named vice president, business development, for Ralph Lauren Home.

August 2001