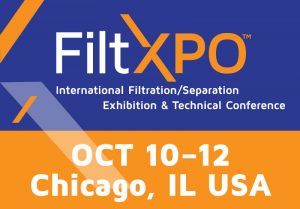 CARY, N.C. — August 17, 2023 — INDA, the Association of the Nonwoven Fabrics Industry, announced that it is partnering with the Waterloo Filtration Institute (WFI) to produce the two-day FiltXPO™ conference program, October 10-11, Chicago. WFI brings decades of filtration experience, resources, and a worldwide network to support the education and technical development of the global filtration industry.
Filtration and separation professionals from the global supply chain will connect at FiltXPO 2023 for advancements, innovations, and business development. The conference portion of the FiltXPO event will focus on advanced filtration technologies and science for products that create a cleaner, healthier, and safer world. More details about the conference will be released at a later date.
"We are excited to partner with INDA on the FiltXPO Conference," said Dr. Christine Sun, president, Waterloo Filtration Institute. "WFI's technical experience and reach will bring an added dimension to the event. Our team has already begun planning the conference and we look forward to sharing more details soon," Sun added.
"INDA is proud to partner with WFI as they bring a wealth of filtration knowledge to the table," said Tony Fragnito, president, INDA. "We are very fortunate to have their technical expertise in planning the FiltXPO Conference. Filtration professionals can expect a robust program developed with the industry expertise of WFI," Fragnito continued.
The Nonwovens Institute (NWI) is a valued partner to INDA in bringing educational offerings to the nonwoven and engineered material industry. Dr. Behnam Pourdeyhimi,  professor and executive director, The Nonwovens Institute, and his team will teach the two-day Filter Media Course in conjunction with FiltXPO, October 9-10, at Navy Pier in Chicago.
Professor Pourdeyhimi and his team will share the latest insights in the development, testing, and application of nonwovens in air, aerosol, and liquid filtration. Participants will gain knowledge about the physics of filtration, how nonwoven filter media is designed and used in air, aerosol, and liquid applications, testing standards, unmet needs in filter media, and the latest market trends and intelligence.
For more details about FiltXPO and the Filter Media Course, visit www.filtxpo.com. For a complete list of INDA and NWI educational offerings, visit www.inda.org/training. For questions, contact the Registrar, registrar@inda.org
Posted: August 17, 2023
Source: INDA, the Association of the Nonwoven Fabrics Industry