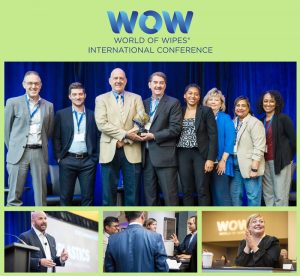 CARY, N.C. — July 21, 2023 — INDA, the Association of the Nonwoven Fabrics Industry, announced the successful conclusion of the World of Wipes® (WOW) International Conference, July 17-20, Atlanta. More than 495 senior-level leaders convened for new intelligence, connections, and business, which was a record turnout for the WOW event.
The 17th edition of WOW featured almost 60 tabletop exhibits, 26 presentations, and two pre-conference webinars. The program introduced Lightning Talks, "supersized elevator speeches" covering new trends, products, and ideas, and a 1.5-day revised WIPES Academy training course. WOW also featured a mentorship program for participants new to the wipes industry.
The WOW speakers shared their expert insights in these key topics:
Inflation, Supply Chain Issues, Capacity/Demand Balance;
Plastic Policy: Closing the Intention-Action Gap;
Sustainability and Manufacturing Practices;
Consumer Market Data and Trends;
Wipes Advancements;
Transparency in the Supply Chain; and
Regulation, Innovation, Standards & Education in Flushability.
"WOW addressed the key issues facing the wipes industry. Participants acquired actionable intelligence to assist in their strategic planning for the coming year and beyond," said Tony Fragnito, INDA President. "Once again, we saw a strong showing of innovative products on display in the tabletop exhibits and from the Award Finalists' presentations," Fragnito added.
World of Wipes Innovation Award®
The winner of the World of Wipes Innovation Award was the Nonwoven Wipe Using Biotransformation Technology developed by Indorama Ventures and Polymateria. This innovative 100-percent polypropylene spunlace wipe utilizes advanced biotransformation technology, meeting the BSI PAS 9017 specification. The wipe is compatible with mechanical recycling however, in the event it becomes fugitive, and exposed to heat, sunlight, air and moisture, will transform into a harmless, bioavailable wax at its end-of-life, returning safely to nature without leaving behind microplastics or toxins. This polypropylene wipe represents a significant leap towards eco-friendly, sustainable nonwoven hygiene products.
Preceding the WOW Conference was the updated 1.5-day WIPES Academy led by Heidi Beatty, CEO Crown Abbey LLC, and Dr. Paul Davies, consultant, Crown Abbey, LLC. This course featured a new focus on the essentials of wet wipes construction and ingredients. Participants learned how to bring nonwovens, lotions, and packaging together to launch a successful product.
INDA announced that WOW 2024 will be held June 17-20, at the Hyatt Regency Minneapolis in Minneapolis, Minnesota. For more information, visit www.worldofwipes.org.
Posted: July 21, 2023
Source: INDA, the Association of the Nonwoven Fabrics Industry