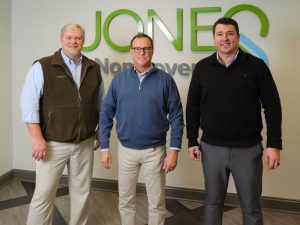 HUMBOLDT, Tenn. — January 4, 2023 — The Jones Family of Companies is pleased to announce strategic leadership changes as it improves its operations in the nonwoven manufacturing industry.
The board of directors officially elected Ralph Jones III, formerly the executive chairman, to assume the role of chairman and CEO; Scott Butler has been promoted to president, leading the management team for Jones manufacturing and distribution operations; and John French, CFO, joins the senior leadership team with key initiatives to strengthen the Jones mission to be people-oriented, service-minded, and quality-driven.
French is a native of West Tennessee, having graduated from McKenzie High School and earning his undergraduate degree from UT Martin and his MBA from Tennessee Tech. He has 15 years of experience in leadership roles in the manufacturing and textile industries. He has worked in companies with annual revenues ranging from $20 million to $500 million, leading finance teams focusing on cash management and profitability analysis.
"I am excited to get started at Jones," French shared. "Jones is an industry leader for a reason, and it is an honor to bring my experience to the next phase of growth in this company."
Jones begins its 87th year as a developer of sustainable plant fiber-based products in the floor care, bedding, furniture, and cold chain packaging insulation markets. In the new year, Jones is adapting to the changing yarn market by transitioning to a broad-line distribution model with curtailment of operations in the last spinning facility located in Humboldt. The Jones line of mop yarn products will continue to focus on quality, dependable performance, and value.
According to Andrew Dailey, senior vice president of Sales & Business Development, "This transition will extend Jones's longtime commitment to the floorcare market and offer renewed superior service with sustained stocking inventory."
Scott Butler, president and fourth-generation Jones associate, commented, "We are fortunate to have committed associates transferring to our nonwoven operations, strengthening our team in Humboldt to position us for growth."
Ralph Jones added, "For over 86 years, Jones has served the mop industry. We remain committed to serving it for many more years to come! We also have a tremendous opportunity to further establish ourselves as a textile industry leader, especially as sustainability becomes a larger priority for businesses. We are already at the forefront of that movement and look forward to where the future will take us."
Posted: January 4, 2023
Source: Jones Family of Companies