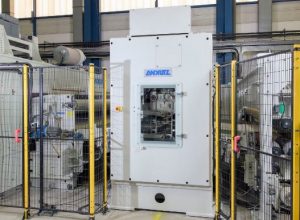 GRAZ, Austria — April 19, 2021 — International technology Group ANDRITZ has received an order from Amarande SAS to supply an elliptical cylinder pre-needler for their plant in Lussac les Châteaux, France. This machine will process shoddy and natural fibers for the production of heavy felts. Installation and start-up of the machine are scheduled for the second quarter of 2021. The new needlepunch production line with the high-performance Andritz cylinder pre-needler will allow Amarande to offer high-quality products and thus open up new market opportunities.
Andritz offers a complete range of elliptical cylinder pre-needlers: PA.169, PA.2000 and PA.3000 — serving different weights, widths, speeds and punching capacity. Andritz cylinder pre-needlers have been produced since the 1960's and have a large installed base worldwide. Over the years they have become a must for production of heavy products, special applications and also for demanding applications like automotive. They are a key success factor in enabling the subsequent needling machines to process heavy batts smoothly and control the progressive draft through the consolidation process.
Established in 1990, Amarande is an important French producer of nonwovens, specialized in the production of felt and wadding from recycled textile and natural fibers such as wool, cotton, hemp, flax and jute. The company operates in various markets such as furniture, green spaces, horticultural crops, and insulation.
Posted April 19, 2021
Source: ANDRITZ AG