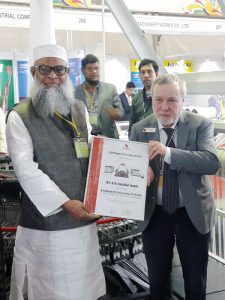 VIENNA — April 10, 2018 — In mid-2017, the Bangladesh University of Textiles was looking for a state-of-the-art circular loom that could be used in the training of its students. Given Starlinger's leading position in the field, the university approached the Austrian engineering company with the request for an offer for a six-shuttle circular loom RX 6.0, which produces high quality fabric from polypropylene tapes. After receiving the university's inquiry, the company decided to combine the request with the 13th Bangladesh International Plastics, Printing & Packaging Industry Fair (IPF) in Dhaka. The floor space booking was increased to around 100 m² in order to exhibit a circular loom RX 6.0. At the exhibition, this machine was then officially handed over to Vice-Chancellor Professor Engr. Mashud Ahmed of the Bangladesh University of Textiles as a free of charge loan for teaching purposes on February 1, 2018.
The Bangladeshi market is of great importance to Starlinger due to its immense potential, as the annual growth in the area of woven sacks is above world market average. In the first half of 2017, Bangladesh was the European Union's third most important supplier of flexible intermediate bulk containers (FIBCs or big bags)1. For more than 20 years, local customers have been using Starlinger machinery for the production of woven plastic packaging (e.g., woven sacks, cement sacks, or FIBCs) as well as for the recycling of production waste.
"In Bangladesh, approx. 15 companies produce over 500 million sacks on our machines every year," says Arnold Sillipp, Regional Sales Manager at Starlinger. "Our customers value the quality of our machines as well as the quality of the final product." Starlinger regards the provision of a circular loom RX 6.0 as an investment into the future, as it will contribute to the technology-based education of future textile engineers.
Posted April 10, 2018
Source: Starlinger