Minneapolis proved to be a tough sell in attracting interest from the technical textiles industry for the combined 2014 IFAI Specialty Fabrics Expo and Advanced Textiles Expo. The recent event, organized by the Industrial Fabrics Association International (IFAI), took place at the Minneapolis Convention Center.
Although no official numbers were released, IFAI President Mary Hennessy said in a post-show press release that 2014 attendance was off by 20 percent. Last year's total participation, including both attendees and exhibitors, was 5,300, meaning this year's event attracted about 4,200 people. The number of participating exhibitors also was down about 10 percent from 2014, falling from 407 to 363. The amount of space, too, was noticeably smaller, about 85,000-square-feet (ft2)compared to 102,000 ft2 the previous year.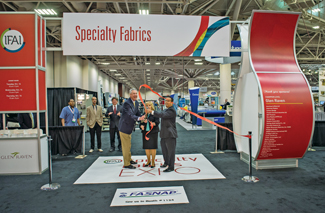 (left to right): Dave Clarke, IFAI chairman of the Board; Mary Hennessy, IFAI
president; and Congressman Keith Ellison, D-Minn.
Photo courtesy of IFAI. ©2014 Mark Skalny Photography
Numbers don't always tell the story however. Many visitors Textile World encountered on the show floor were happy with the expo. "This year's expo met or exceeded our expectations for all categories," said Roy Chism, president, The Chism Company, San Antonio, Texas. "The trade show offered a good match for specific machinery needs, textiles for new product offerings, and services for the enhancement of our operations."
Equally optimistic about the show was Kevin Kelly, MFC, IFM, president, Globe Canvas Products Co., a division of Humphrys CoverSports, a Philadelphia-based fabricator of products made from technical textiles. "We had a great Expo," Kelly said. "We saw dozens of our vendors and covered a lot of ground. We saw new equipment, new fabrics, and established new personal relationships that we could not have done as economically in any other way."
There were a number of exhibitors, too, satisfied with the show's results.
Annelie Wester, marketing manager for Sweden-based Forsstrom High Frequency AB, was pleased with the show. She said the company sold two of its high frequency welding machines right on the show floor, something that usually never occurs at the IFAI Expo.
Jamie Nute, West Coast director of sales, Miller Weldmaster, said the merger of the Sinclair Equipment Co.'s wedge welder equipment lines into Miller Weldmaster and the new relationship with JTE Equipment have both been well-received by the industry. The Miller Weldmaster booth appeared to be very active during much of the trade show.
The busiest booth spots on the show floor seemed to be the Nike IHM and Higher Dimension Materials Inc. (HDM) stands. The IFAI Advanced Textiles Expo marked the first time Nike IHM, an independent subsidiary of Nike Inc., exhibited at a trade show. Its display of thermoplastic polyurethane fabrics attracted a great deal of interest. HDM also was very busy showing its line of durable and lightweight fabrics marketed under the name SuperFabric®.
Perhaps summing it up best were the remarks by Bill Christmann, vice president of Sales, Gehring Tricot Corp. "This year, for the first time I can recall, the majority of the show was filled with very involved exchanges where actual business plans were detailed out, which ultimately allows for the best chance for quickest turn on business growth. As diverse as Gehring Tricot is for a U.S.-based vertical mill, the fellow exhibitors and attendees are densely populated with existing partners, those who supply us as well as those we supply; so, the less hectic pace allowed for much more time to speak with these folks as well. This made for a very productive show on every possible level."
Throughout the course of the four days in Minneapolis, there was a lot going on besides the trade shows. A two-day Advanced Textiles symposium was held October 13-14 that featured both Safety and Smart Textiles education tracks. These programs attracted a significant new type of attendee for IFAI – the researchers and product developers in cutting-edge markets. In the traditional areas such as marine and awing fabricators, visitors could attend business seminars and workshops/tours included sewing and welding equipment hands-on participation.
IFAI Business Meeting
IFAI uses the Expo event as the location to gather its membership and to recognize industry leaders, professional certification achievement, and the skillful work of the end product fabricator.
IFAI conducted its 102nd Annual Business Meeting during the show's opening night reception. It was probably not the best idea to have a business meeting entangled with a noisy cocktail reception but if you listened closely you heard a good story. David Clarke, IFAI's Chairman of the Board, reported on the association's projects, financial condition and its future plans. Most important, he reported the association was in solid financial condition.
Other presentations followed Clarke, including the announcement of the IFAI's newest Honored Life Members. These individuals were Peter McKernan, IFM, Herculite Products; Frank Sinclair, Sinclair Equipment; Nora Norby, MFC, Banner Creations; and, Seymour Hyman, Health Chem Corporation (now Herculite Products).
The evening's final event was the announcement of the winners of the association's 2014 International Achievement Awards competition. Winning projects in 30 categories were showcased on screen during the presentation, fantastic projects ranging from tensile structures to geosynthetic projects to marine exteriors.
Major gatherings like the IFAI Specialty Fabrics Expo also bring news of transitions in the industry. Those retiring by the end of 2014 include Robert McGilvray, president at Serge Ferrari North America; Harry Butler, Vice President of Marketing at Tri Vantage; and, Frank Sinclair, Founder and President of Sinclair Equipment Company.
Looking Ahead
Next year will bring the addition of another distinct show-within-a-show. In addition to IFAI Specialty Fabrics Expo and IFAI Advanced Textiles Expo, the IFAI Shade Expo will be introduced as a concentrated focus on all things sun protection made using technical textiles. The combined IFAI Specialty Fabrics Expo/IFAI Advanced Textiles Expo/IFAI Shade Expo will be held October 7-9, 2015, in Anaheim, Calif. The Advance Textiles education tracks will begin October 6, a day before the trade shows begin.
November/December 2014