The geosynthetics industry is one of the largest end markets for technical textiles; and uses
woven, nonwoven, knitted and composite fabrics. The potential untapped applications for the
materials in this sector are huge. In this interview,

Textile World
Contributing Editor Stephen M. Warner discusses the industry and the work of the Geosynthetic
Materials Association (GMA) with Boyd Ramsey, chief engineer at GSE Environmental LLC's North
American headquarters in Houston and chair of GMA's Executive Council; and Andrew Aho, director of
technical markets for the Industrial Fabrics Association International (IFAI), Roseville, Minn. GMA
is a division of IFAI.
In the interest of full disclosure,

TW
notes that Warner was active in organizing the geosynthetics industry while he was with IFAI,
establishing the Geotextile and Geomembrane divisions — now combined as the GMA. He also served as
secretary general of the Second International Conference on Geotextiles in 1982 and created the
IFAI publication Geotechnical Fabrics Review — now Geosynthetics magazine — while at IFAI.

TW: Can you give us a brief description of the geosynthetics industry? How many
companies are involved in manufacturing in North America? What are the major end markets for the
materials?



Boyd Ramsey: The demand for geosynthetics has grown dramatically in the last ten
years. The global demand in calendar year 2001 was $3.2 billion. The market shares were 42 percent
for North America, 35 percent for Europe, 16 percent for Asia Pacific and the remaining 7 percent
scattered in the rest of the world. Global sales by product type were 45 percent for geomembranes,
22 percent for geotextiles, 17 percent for geogrids and high-strength fabrics, 17 percent for
erosion control materials, and 6 percent for drainage materials. Global sales by applications were
pavement, 17 percent; erosion control, 10 percent; drainage, 11 percent; barrier products, 11
percent; and soil stabilization and reinforcement, 22 percent.
In 2010, the global demand for geosynthetics had grown to $6.1 billion. The geographic
distribution had shifted a little, too. North America's overall market share had been slightly
reduced to 40 percent; Europe's had fallen dramatically to 18 percent; Asia Pacific's had grown to
22 percent; and the rest of the world's had grown to 21 percent. Product type percentage within the
geo family of products had changed with the growth. The geomembranes percentage had slipped to 35
percent; geotextiles grew to 35 percent; geogrids and high-strength fabrics, 8 percent; erosion
control materials, 11 percent; and drainage material, 17 percent. Global sales by general
application in 2010 showed barrier products led with 34 percent of sales; stabilization and
reinforcement, 19 percent; pavement, 18 percent; drainage, 16 percent; and erosion control, 13
percent.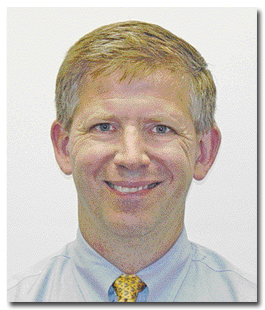 Boyd Ramsey

TW: Roughly how large is the North American industry in terms of yardage? Has it
grown in the last three years? What is the future growth outlook?
Ramsey: Yardage is a difficult concept. Some products are measured in yards, some
in pounds, some in square feet, and some in other units. Growth has been good the past couple of
years, returning to, and in some cases surpassing, the pre-recession levels. Future growth outlook
is also strong. Geosynthetics are still underutilized, with the reasonable potential for some areas
to have double-digit growth over the next several years.

TW: Mr. Aho, you are the managing director of GMA; and Mr. Ramsey, you currently
serve as the organization's volunteer chairman. Can you tell us about GMA?
Andrew Aho: GMA is comprised of 80 member companies. The membership includes all
the major North American geosynthetics manufacturers, distributors and industry service providers.
The overriding goal of GMA is to help grow the geosynthetics market. GMA has been successful in
this endeavor by spearheading the development of standards and specifications that make it easier
for specifiers to spec the products; through the geosynthetics education of engineers and users;
and by the implementation of a robust government relations program for both federal and state
governments.
In addition, GMA helps organize geosynthetics conferences such as the Geosynthetics 2013
conference held last spring in Long Beach, Calif. GMA is actively in-volved in the development of
the next geosynthetics conference and trade show, Geosynthetics 2015, which will be held Feb.
15-18, 2015, in Portland, Ore. The colocation partner for Geosynthetics 2015 will be the
International Erosion Control Association.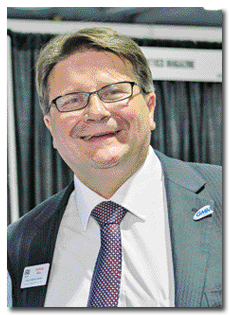 Andrew Aho

TW: What are issues that can affect the industry?
Ramsey: In the U.S., Environmental Protection Agency regulations, particularly for
coal ash storage, have the potential to expand the market for the products used in these
situations. As infrastructure spending expands, the geosynthetics market share of materials used
will likely increase at the expense of traditional materials. The improved constructability of
geosynthetics and designs utilizing them are also helping to fuel expansion.
Aho: Transportation is one of the major markets for the industry. Government
transportation spending is critical. GMA would like to see the U.S. Congress pass a long-term
transportation authorization bill that would allow states to do long-range planning for
transportation projects.

TW: GMA recently held a lobby day in Washington. What were you trying to
accomplish?
Aho: GMA has been holding twice-yearly lobby days since 2006 and has developed
good relationships with key members of Congress. When GMA members visit with new members of
Congress or staffs, the goal is to introduce the industry, products and applications. GMA members
attending our recent lobby day events also advocate a long-term transportation authorization bill,
support for the coal-ash bill, and favorable language in the Water Resources Development Act (WRDA)
that funds the U.S. Army Corps of Engineers projects.

TW: Mr. Ramsey, your company serves on the Executive Committee of the GMA. You've
been active in the GMA governance for a number of years. A trade organization like IFAI/GMA is
dependent on the volunteer contributions of companies within the industry. Can you tell us a little
about GSE Environmental?
Ramsey: GSE Environmental is a publicly traded company. It is a leading
manufacturer and marketer of geosynthetic lining products and services; and has a worldwide
presence in markets such as agriculture, aquaculture, canals, civil, golf courses, mining, power,
stormwater retention, waste containment, wastewater and other industrial applications.
GSE's management team is led by Charles A. Sorrentino, president and CEO. The other executive
management team members are: Peter McCourt, president, International; Jeffrey Nigh, executive vice
president of Global Operations; Mark Whitney, vice president, general counsel and secretary; Daniel
Storey, senior vice president and CFO; Gregg Taylor, vice president and treasurer; and, Edward
Zimmel, vice president, engineering.
---
Editor's note: Stephen M. Warner, Arden Hills, Minn., is publisher of BeaverLake6 Report,
beaverlake6.com, a Web-based newsletter reporting on
trends, data and issues that he feels influence the technical textiles industry. He also is former
president and CEO of Industrial Fabrics Association International.

---
November/December 2013