Minnetonka, Minn.-based NatureWorks LLC has begun commercial production of two high-performance
Ingeo™ biopolymer grades that it reports are suitable for a range of processes used in the
production of fibers and nonwoven fabrics. According to the company, the new grades offer lower
shrinkage, faster crystallization and higher melting points than any other Ingeo fiber-grade resins
currently available.
Ingeo 6100D is a mid-viscosity grade suitable for spunbond nonwoven as well as conventional
staple fiber and filament melt spinning applications. When compared to grade 6202D, which is often
used for those applications, 6100D exhibits a melting point that is 8°C higher; a melting
shoulder that is 15°C higher; approximately 20-percent increased fiber crystallinity; three to four
times the rate of quiescent crystallization; and reduced stress requirements for stress-induced
crystallization. In addition, the fibers, which range from 15 to 35 microns in diameter, exhibit a
high strength-to-weight ratio. Suitable fabric applications include automotive, geotextile, hygiene
and medical.
Ingeo 6260D is a low-viscosity grade used to make fibers that typically range from 2 to 7
microns in diameter, and which are suitable for meltblown nonwoven applications such as filtration
and hygiene. The fabrics produced exhibit 80-percent lower shrinkage than conventional nonwoven
fabrics used for those applications.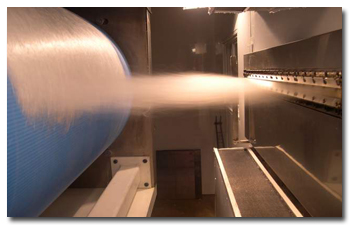 Ingeo™ is shown being processed on Biax-Fiberfilm equipment to make meltblown nonwovens.
Photograph courtesy of Biax-Fiberfilm


NatureWorks reports that fibers made using the two new grades enable improved fabric
dimensional stability owing to the reduced shrinkage. Other advantages include increased hydrolysis
resistance and approximately 30-percent higher modulus at temperatures higher than the grades'
glass transition temperatures. Their higher melting point makes them suitable for bicomponent
applications in which they can be combined with Ingeo low-melting-point resins.
"These grades are the result of intensive research and development and significant long-term
investments in state-of-the-art production processes," said Robert Green, fibers and nonwovens
industry global segment manager, NatureWorks. "These new grades are the first of a number of next
generation solutions."
October 8, 2013