In conjunction with the opening of the European Centre for Innovative Textiles (CETI) in Roubaix,
France, in October 2012, and with 2012 lille3000 celebrations in Lille, France, the third edition
of Futurotextiles was installed at CETI to present current, state-of-the-art textile technology not
only as used in technical textile applications, but also as used by artists and designers to create
beautiful and imaginative articles that often include high-tech function as part of the concept.
In the exhibition catalog introduction, it is stated: "Midway between technology and
culture, the exhibition rests on three foundations: education, since it explains the origins and
diversity of textiles and shows how textile innovations change our relationship to the world;
science, by highlighting the technical characteristics of the textiles of the future; art, finally,
because the new fibres, with their innumerable properties, inspire the imagination of designers
more than ever."
The exhibition covers a full textile spectrum including fibers and yarns, composite and
nonwoven materials and finished products. Unusual fibers presented include spider silk; biopolymer
fibers such as milk; mineral fibers such as basalt; stainless-steel fiber; piezoelectric and optic
fibers; and flax; among others. The diverse range of end-use applications includes protective,
apparel, smart, sport, health, transportation, home, construction and architecture, geotextiles,
and wellbeing. There also are artworks that incorporate highly functional technical textile
materials in objects that, while some may exhibit functional characteristics, are primarily
aesthetic concepts.
Shown here are a few examples of the textiles shown at or in conjunction with Futurotextiles
3: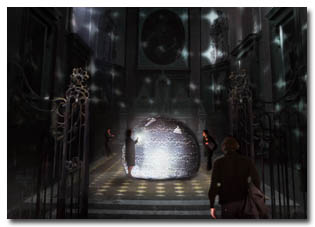 Lotus Dome — created by Studio Roosegaarde, the Netherlands, commissioned by lille3000 and
installed at Sainte Marie Madeleine Church in Lille — is an interactive, organic construction made
using ultralight aluminum "smart foils" that react individually to changes in temperature triggered
by a breath of air, a light source or other such influences. Photograph courtesy of Studio
Roosegaarde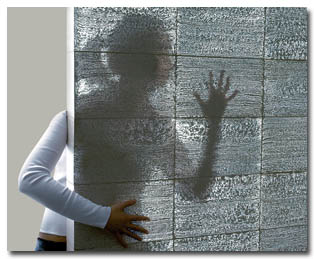 LiTraCon™, light-transmitting concrete invented by Hungarian architect Áron Losonczi, Litracon
Kft, and distributed by Byzance Design, France, is made using a combination of 96-percent concrete
and 4-percent glass fiber. Exterior light is channeled by the glass fibers and filtered through
concrete blocks into interior spaces. Photograph courtesy of LiTraCon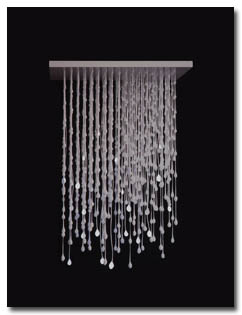 Perle de Pluie, created by Paris-based designer Tzuri Gueta and Tony Jouanneau, is a chandelier
made with silk lace tubes filled with translucent silicon "pearls," and lit using a light-emitting
diode (LED) light source. Photograph courtesy of Tzuri Gueta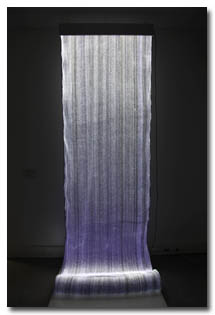 Eight-part Fugue, single panel detail — designed by Clémentine Chambon and Françoise Mamert,
Design Percept, Paris; and developed by Brochier Technologies, France — is a light-diffusing
curtain woven using silk and optic fibers and powered using five LEDs. Photograph courtesy of
Maxime Dufour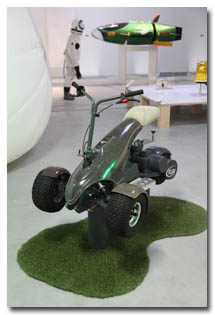 SCUBE® C1 Flax is an electric tricycle made using a recyclable composite flax material
developed by Flax Technic, Groupe Dehondt, France. Photograph courtesy of Maxime Dufour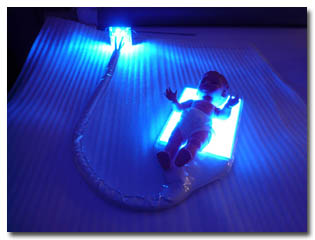 Lightex phototherapy pad for treatment of neonatal jaundice, developed by Brochier
Technologies, is a textile pad made using polymer optic fibers and LED modules. Photograph courtesy
of Brochier Technologies.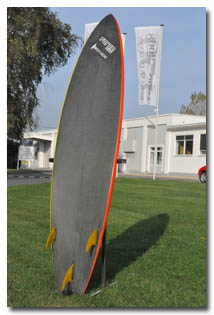 Windsurf board, developed by Libeco-Lagae NV, Belgium, is made using a composite containing
carbon and flax fibers. Photograph courtesy of Libeco-Lagae & Lineo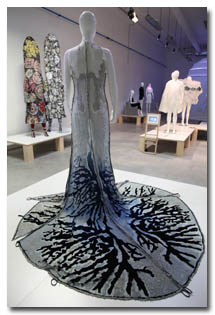 Herself Dress, photocatalytic dress designed by British fashion designer Helen Storey, is made
with 70-percent polyester/30-percent silk fabric, finished using sand and cement, and coated with
titanium dioxide (TIO2). The coating is said to repel harmful molecules in the air and purify and
deodorize the air around the wearer. Photograph courtesy of Maxime Dufour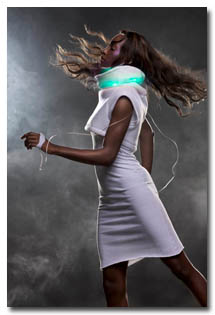 Mood Sweater, designed by San Francisco-based future concepts designer Kristin Neidlinger,
founder of Sensoree, is a cotton/LYCRA® dress that reveals the mood of the wearer via colored LEDs
in a collar made using recycled plastics along with sensors and conductor fabric. Photograph
courtesy of Roger Dyckmans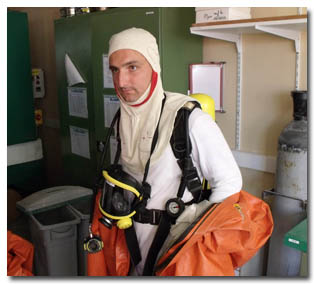 Active Protection Hood, developed by Bodysens SAS, France, for firefighters, is made using a
99-percent flame-retardant treated aramid fabric and allows hands-free communication by the wearer
with colleagues involved in the operation. The hood features a digital radio to transmit movements
and position up to a distance of 1 kilometer; sensors in the lining that measure vital signs such
as heart rate, oxygen levels and skin temperature; and a wireless micro audio network that enables
the wearer to communicate verbally with colleagues in a "natural" conversation despite physical
obstacles. Photograph courtesy of Bodysens


After closing at CETI at the end of 2013, the exhibition moved to Paris and is currently on
view at the Cité des Sciences & de l'Industrie until July 14, 2013.
March/April 2013