TORONTO — September 24, 2012 — Bauer Hockey, Inc., the world's leading manufacturer of ice hockey
equipment, today announced a multi-year partnership with Propex Operating Company, LLC, the
producer of CURV® Composite Technology. CURV is a high-tech composite material used in Bauer
Hockey's elite-level skates. This partnership is exclusive to Bauer Hockey and utilizes
patented technology that was developed by Propex as part of Bauer Hockey's long-standing investment
to elevate player performance and continuously exceed expectations in product development.
"Utilizing state-of-the-art materials for our equipment is a priority because players are
always looking for maximum performance and protection,and they know our brands meet these demands,"
said Kevin Davis, President and Chief Executive Officer of Bauer Performance Sports. "Our
partnership with Propex is a continuation of this commitment, and we're pleased this exclusive
relationship has been extended."
CURV® Composite Technology captures exceptional mechanical properties by incorporating a
process for weaving different composite materials without requiring additional reinforcement, such
as with an additional structure, to maintain stiffness. As a result, the product also yields high
tensile strength and outstanding impact resistance at a significantly lower weight than many other
composite materials. CURV® Composite Technology is one of the many high-end technologies that go
into Bauer Hockey's high performance skates.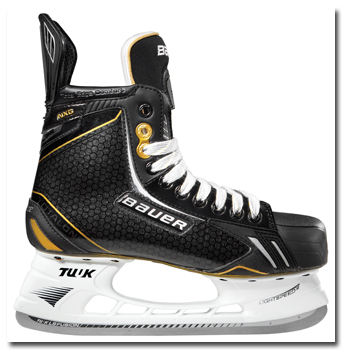 Bauer Skate with CURV® Composite Technology
"Propex is thrilled to be exclusively partnered with the leading hockey skate manufacturer in
the industry and believes BAUER has used CURV® Composite Technology in a way that showcases the
technology's key properties and benefits," said Dave Gartshore, Business VP for CURV® Composite
Technology at Propex. "We anticipate many examples of ground-breaking,innovative product
developments happening throughout this mutually beneficial partnership."
Bauer Hockey utilizes CURV® Composite Technology in its current line of skates, including the
SUPREME TOTALONE NXG, the SUPREME ONE.9 and the VAPOR APX.



Posted on September 25, 2012
Source: Bauer Hockey/Propex Operating Co. LLC