The development of microfibers opened the door for a myriad of new end-uses. For example, dust
filtration in foodstuff production has become a major application around the world. Modern filter
media for low dust separation are made of bicomponent nonwovens produced using spunlaced
technology.
Years ago, the biggest nonwovens producer in the world, Germany-based Freudenberg Nonwovens,
started the successful launch of its Evolon® product. This fabric made of spunlaced microfibers
became a global success in many applications, even for apparel. One of the latest innovations in
adapting Evolon for new end-uses is Viledon® NEXX filter media for foodstuff production and other
end-uses.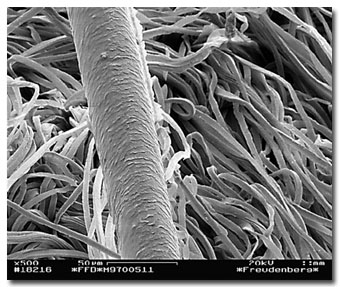 This scanning electron micrograph (SEM) shows the size of a human hair, shown in front,
compared to Evolon® microfibers, shown in the background.

Surface Filters


These filter bags are the newest generation of surface filters and offer advantages when
compared to traditional filters manufactured using needlepunch technology. According to
Freudenberg, these filters have a considerably lower weight than traditional filters but are
stronger and longer-lasting, and are more cost-effective and have lower emission values. Compared
with needled felt filter bags, the Viledon NEXX bags use about half of the resources during
manufacture, and filtration performance is higher than that of the needled filters. The NEXX filter
bags are available with and without antistatic finishes. Freudenberg developed the Evolon
microfiber base material specifically with dust removal technology in mind.



Dust Filtration


In many production areas, high dust load occurs, which disrupts the manufacturing of the
products. This high dust load can occur in processes for production of sugar, plastics and chemical
products; and even in steel mills or foundries, or for surface treatment processes. For these
areas, Freudenberg developed Viledon NEXX filter bags. The bags are especially suitable for the
recovery of costly products used in food and pharmaceutical industries, or for silo storage
applications. In the flour milling process, they can be used to recover flour dust from extracted
air. The extra-fine continuous-filament microfiber surface protects the recovered products from
contamination.
The basic Evolon material is a 70-percent polyester/30-percent polyamide bicomponent
nonwoven. The cake-like cross-section of the filament is eventually fibrillated using
hydroentangling technology. The fibrillation results in a very fine microfilament. The basic Evolon
fabric as well as the new high- quality filter media are especially suitable for surface filtration
applications.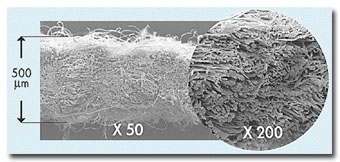 This SEM shows the dense structure of Evolon microfiber.

No Penetration


Initial conditioning of the Viledon NEXX filter material virtually prevents dust penetration
into its structure. "The integrated microfiber layer creates a stable dust cake which prevents
irreversible adhesion of dust particles inside the filter medium," Freudenberg explains. "The
result is to create a stable operating condition and reduced resistance to flow. Continuous
operation over long periods at minimum pressure loss becomes possible."

Long Filtration Cycles


One of the key issues for an economical product is its lifecycle. The NEXX filter bags are
said to be "sturdy and resilient." As Freudenberg reports, compared to traditional filters, "they
are subject to lower mechanical stresses owing to lower operating pressure differential. This
advantage extends the filtration cycles and the cleaning intervals. Costs for maintenance and
replacement are minimized and the consumption of expensive compressed air for pulse jet cleaning is
reduced." These advantages can potentially reduce electrical energy consumption.
Thanks to the microfiber layer of such a filter bag, removal of dust from the media surface
can be achieved easily. Continuous clean gas values of less than 1 milligram per cubic meter are
possible. At 240 grams per square meter, the filter media is approximately half the weight of
traditional needle felts, and its mechanical stability is high, Freudenberg notes. The light weight
facilitates handling during filter bag installation and removal, even when the filter is
contaminated with dust. Traditional installation methods can be used, and no special tools are
needed.

Enhancing The Performance


If the workplace requires very low dust concentrations or separation of harmful or
carcinogenic dust, a second filter stage with static filters can be installed after the NEXX filter
bags. Such an arrangement also allows air to be recirculated into the workplace, which can result
in reduced heating costs, particularly during cold weather. The filter bags can be pre-coated to
comply with user specifications, for example, to handle sticky, oily or other dust types.

Inorganic Pigment Separation


According to Freudenberg, the Viledon NEXX filter media has already realized successful
applications for the separation of inorganic powder coating pigment dusts, whose particle sizes are
mainly in the nanometer range. "To create the best surface finish, the (powder coating) pigment
industry aims to manufacture pigments with the smallest possible particle diameters," the company
reports. "This type of dust does not create a suitable dust cake for surface filtration. For a
filter medium to work effectively on this application it is necessary to have extremely fine fibers
and pores like that exhibited by Viledon® NEXX filter media."
The company further notes that because silicones are not used in the manufacturing process,
the filter media also is suitable for the recovery of powder coating pigments used in the
automotive industry.
July/August 2012