I

nterest in the technical textile and nonwovens segments of the US textile industry
continues to gain traction around the world. Recently, the Italian Trade Commission (ICE) and The
Association of Italian Textile Machinery Manufacturers (ACIMIT) invited
Textile World
and a contingent of educators and researchers from North Carolina State University's (NCSU's)
College of Textiles, Raleigh, N.C., to participate in an information exchange in Italy. ACIMIT
President Paolo Banfi, who also is CEO of Comez S.p.A., in the company of a group of Italian
machinery producers, welcomed the US delegation. Alessandro Mussa, assistant trade commissioner
from ICE's Atlanta office, then explained the mission of the exchange was to present the trends in
the US industry and highlight some of the many research projects underway at NCSU. Additionally, a
tour of Italian textile machinery manufacturers was arranged to observe the latest developments
supporting technical textiles and nonwovens production.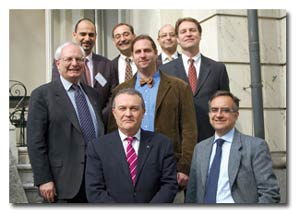 Front row: Paolo Banfi (left); and Federico Pellegata, ACIMIT director; Middle row: Dr. A.
Blanton Godfrey (left) and Dr. Russell Gorga; Back row (left to right): Francesco D'Oria, ICE Rome;
Alessandro Mussa; Dr. Behnam Pourdeyhimi; and Dr. Gregory Parsons

Presentations

Each member of the US delegation delivered a presentation to the assembled ACIMIT members.

TW
led off with a report detailing the transition of the US textile industry and highlights of
US companies that have embraced change and innovation to survive and thrive during the challenges
of the last 10 years.
Dr. A. Blanton Godfrey, dean and Joseph D. Moore Professor, NCSU College of Textiles,
drilled down in his presentation to illustrate the size and vibrancy of the textile and nonwovens
industries active in North Carolina. Godfrey also explained the depth of programs and research
underway at the college, which has more than 1,000 textile-focused undergraduate, graduate and
doctoral students.
Dr. Behnam Pourdeyhimi, NCSU College of Textiles associate dean for industry research and
extension, William A. Klopman Distinguished Chaired Professor, and director, The Nonwovens
Institute, focused on the possibilities and trends in nonwovens — from fiber and polymer through
process and post-process technology and end-use. Additionally, as director of the Nonwovens
Cooperative Research Center, a facility established in 1991 as a partnership between NCSU and the
nonwovens industry, Pourdeyhimi was able to share the current trends in research throughout various
nonwovens industry sectors.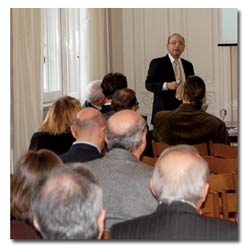 Dr. Behnam Pourdeyhimi (standing, center) presented his observations on the future of
nonwovens.
Dr. Gregory N. Parsons, professor, NCSU Department of Chemical & Biomolecular
Engineering, shared information about the Parsons Research Group's work on atomic layer deposition
and its implications for surface modification of functional textiles.
Dr. Russell Gorga, assistant professor, Fiber and Polymer Science Program, NCSU Department
of Textile Engineering, Chemistry and Science, presented his work on developing polymer
nanocomposites and nanofibers with improved properties. Applications include filtration and tissue
scaffolds.
Following the presentations, one-on-one bilateral meetings took place between ACIMIT members
and the US delegation. These meetings provided an opportunity for all to investigate the
possibilities for cooperation in promoting Italian participation in US technical textiles and
nonwovens developments.

Corporate Visits

Chiara Bonino with
Bonino Carding Machines S.r.l. introduced the delegation to the Bonino product
line, which has its roots in producing cards to support the wool industry in the Biella region.
After World War II, the company pursued development of nonwovens in support of the blanket and
carpet businesses. Having expanded from an Italy-centric supplier to a European marketer, the
company in the 1980s pursued development of a short-fiber cotton card, which, as the open-end
spinning market declined, was applied to the bleached cotton business of sanitary napkins. More
recent developments, after having added fiber preparation machines to its line, include the
commercialization of a Turbo airlaid card that produces 40-gram-per-square-meter (g/m2) and heavier
products. The Turbo's gentle carding action keeps short fibers in the product — the opposite result
from many traditional carding systems. Bonino systems are standard structures and concepts, but
according to the company, typical orders are 20- to 25-percent custom.
Brothers Ezio and Marco Aletti with
Aletti Giovanni & Figli S.r.l. — makers of buffing and sueding machinery for a
broad range of textile, tannery and rubber applications — also welcomed the delegation to their
facility. The process provides classic surfaces such as leveling, peach pile, nubuck and others,
but by utilizing an embossed roll similar to a flexographic engraved roll, a pattern effect can be
achieved by abrading the surface of the fabric when forced forward by raised parts of the engraving
while not affecting the fabric surface where the fabric can fall away into the recessed areas of
the engraved roll. The machine has a high level of precision and calibration, which aids in product
reproducibility.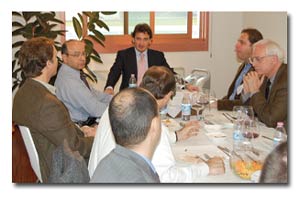 Sales and Marketing Director Paolo Dini (center) welcomed the US delegation to A.Celli
Nonwovens.
Well-known paper and nonwovens industry supplier
A.Celli Nonwovens S.p.A. offered an overview of its two independent divisions.
Sales and Marketing Director Paolo Dini explained the development of A.Celli's business for
customized winders and slitter-rewinders, which are used for processing nonwovens fabrics. He
explained the long-term relationship the nonwovens industry demands and the significant market
share A.Celli has been able to earn. The company has also developed Wingformer, an airlaid forming
technology; as well as an integrated winding, slitting and roll-packaging process called
Slittopack.
Lorenzo Marsiglio with
Tecnorama S.r.l. showed the delegation through the facilities of the well-known
dispensing systems manufacturer. Founded in 1984, the company launched the patented Dosarama system
at the 1987 ITMA in Paris. Tecnorama has evolved the technology in terms of accuracy; ability to
dispense powders; automated dissolving; movement from weight-based systems to volumetric, fully
automatic sample and small production machines; and the incorporation of online spectroscopy. Most
recent developments include the addition of an automatic system for analyzing the curves of a
dyestuff exhaustion model to the DOS&DYE® system creating the DOS&DYE®Spectrodye. Later,
both transmission and reflectance data were combined into one automated system to create the
Spectrorama® system.
With all of the recent interest in recycling textiles, the delegation visited
Dell'Orco & Villani S.r.l., a firm with a long history in the field. Giovanni
Dell'Orco and Silvano Villani came together in the 1960s to manufacture innovative tearing machines
that were particularly suited for reclaiming man-made fibers. Dell'Orco & Villani entered fiber
opening and blending for spun yarn manufacturing as well as for nonwovens used for insulation
panels in automotive and building products. Recent sales include placement of recycling lines at
major US carpet manufacturers. According to Dell'Orco & Villani Associate Frank J. Levy of
Quogue, N.Y.-based PCC Processing Technologies LLC, interest continues to grow.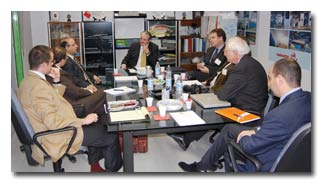 Cormatex President Riccardo Querci meets with the US delegation at Cormatex's Prato
office.
Cormatex S.r.l. President Riccardo Querci, representing the second of three
generations in the family business, explained his company's current position in the woolen spinning
and nonwovens machinery businesses. The company opened in 1938 and developed an expertise in the
carding and spinning of woolen yarn including cashmere, angora, camel hair and blends with fine
wool. Cormatex's nonwovens lines include opening and blending machines, fine openers, card feeders,
high-production cards, lap formers, and cutting and winding systems. The delegation was able to
observe the lap fomair, an airlaid nonwovens section that uses a new aerodynamic fiber-batt
formation system to create a highly uniform batt for subsequent needling or thermobonding. With a
production capacity of more than 1,500 kilograms per hour (kg/hr) and a product weight range of 150
to 3,000 g/m2, the system shows promise for applications in both fibrous and non-fibrous products.
Giovanni Bettarini, sales director of
Bettarini & Serafini S.r.l. – bematic®, spoke of the challenges associated
with supplying turnkey lines and the success the company has had in the United States with seven
installed airlaid nonwovens lines. Bematic's direct felt line has at its heart the Bemaformer, a
batt-forming machine that uses a new air-forming technology to produce a randomly oriented
high-volume, low-density felt. The product is then ready for bonding by oven, needleloom or
quilting machine. Bematic also produces computerized nonwoven cards in widths of 2,000 to 3,500
millimeters and with production up to 1,500 kg/hr. All supporting opening and feeding equipment is
also supplied by Bematic.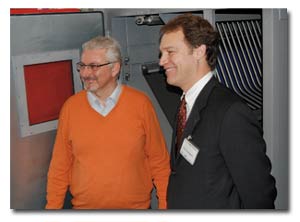 Biancalani President Rosanno Biancalani (left) with

Dr. Gregory Parsons after a demonstration of the new Airo® 24
Well-known traditional textile finishing machinery manufacturer
Biancalani S.p.A. hosted the delegation at its facility in Prato. With 50 years'
experience in improving the hand of textiles, Biancalani President Rosanno Biancalani made it clear
the company is dedicated to applying its technologies in the nonwoven and technical textile
segments. The recently developed Airo® 24 achieves a continuous process with many of the effects
possible in the batch-oriented Airo machines. As fabric enters and exits the machine at a speed of
up to 40 meters per minute, a reserve of fabric in the machine is accelerated to a high speed and
impacts a treatment grid while remaining in an open width. As the fabric continues to enter and
exit the machine, the process is reversed, accelerating the fabric to the back of the machine and
impacting the rear grid. This back-and-forth impact continues as new, untreated fabric enters the
machine and softened, bulked fabric exits. The Airo 24 can process up to 600 kg/hr at a maximum
temperature of 200°C. A variety of finishing effects can be achieved including permanent soft touch
and drape, softening without chemicals, resin polymerization and increased pliability.
One quick look at the reference list from
OMMI S.p.A., and a global base of world-class customers is quickly apparent. OMMI
shares a similar history with many producers in the region, having focused on wool processing from
opening, cleaning, blending and semi-worsted spinning. Later, the company expanded on those
technologies, entering nonwovens and systems for fibers other than wool. It developed technologies
to deal with the special circumstances presented in opening and blending fibers such as glass,
carbon and cellulose. At a nearby facility, OMMI presented an operating blending facility with
chute-fed cards. The company offers an extensive catalogue with the ability to customize production
lines for clients interested in processes from spinning to nonwovens, and automotive applications
to waste reclamation.

Continued Cooperation

There is little doubt that Italian machinery companies are committed to those manufacturers
seeking technologies to enter or extend their presence in the nonwovens and technical-textiles
marketplace. One observation, in looking at the history of the companies visited, was of their
commitment to adapting and developing their businesses to fill the needs of changing times.
Throughout the history of their local and global markets, they successfully adapt, improve and
reinvent their product lines to offer the textile industry new opportunities to compete and win.
May/June 2008