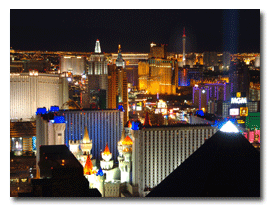 T
he Industrial Fabrics Association International (IFAI), Roseville, Minn., will welcome
more than 450 exhibitors and 8,000 anticipated visitors to the Las Vegas Convention Center for IFAI
Expo 2007, to be held October 3-5 in Las Vegas.
The annual event showcases the latest research, product developments and
technologies for a wide array of specialty fabrics markets that include air and tension structures;
awnings and canopies; composites; contract sewing and sealing; geotextiles; health care and
medical; marine tops, covers and upholstery; packaging; safety and protective; and signage; to name
a few. This year, the expo will comprise a trade show, symposiums, workshops, seminars, meetings
and a number of special events.
(See Table 1 for a comprehensive event schedule.)


IFAI Exhibitors Keep Coming Back



"It looks at this point that our retention rate of 2006 exhibitors for IFAI Expo
2007 will be about 80 percent," said Stephen M. Warner, president, IFAI. "I believe this is the
highest retention rate amongst textile-oriented shows in the United States.
"Exhibitors make decisions based upon past performance … not just promises by the
show organizers. Exhibitors may try a show once, but they won't be back if they don't get the right
audience. Exhibiting has just become too expensive, and companies have to be more selective of the
shows in which they participate. So we feel our high exhibitor retention rate reflects the
exhibitor's feeling that IFAI Expo is truly the 'can't miss' event for their company," Warner
explained.
He added that the post-IFAI Expo 2006 survey also revealed that 94 percent of
exhibitors found new potential customers; and 76 percent found new potential suppliers, partners
and distributors among other exhibitors.


Everything For Everyone



According to IFAI, and in accordance with its high exhibitor retention rate, the
expo has become the largest specialty fabrics show in the Americas. Organizers expect visitors to
this year's event to include architects, designers, engineers, equipment users, manufacturers,
marketing specialists, procurement specialists, project managers, those involved in research and
development, sewers, shop personnel and welders. In short, all those involved in the industry can
expect to find something relevant to their place in it.
Visitors will have the opportunity to see more than 30 categories of available
products including adhesives; coatings; cordage; cutting, material-handling, rewinding, sealing,
sewing, slitting and spreading equipment; fibers and yarns; laminating; nonwovens; testing
equipment and services; weaving and knitting; and webbing and narrow fabrics; among others.
"IFAI Expo is well-known as a 'buyers show,'" Warner said, adding that in the past,
the show has received the prestigious International Buyers Program designation from the US
Department of Commerce. The program enables thousands of foreign buyers each year to meet with US
companies at major trade shows in the United States.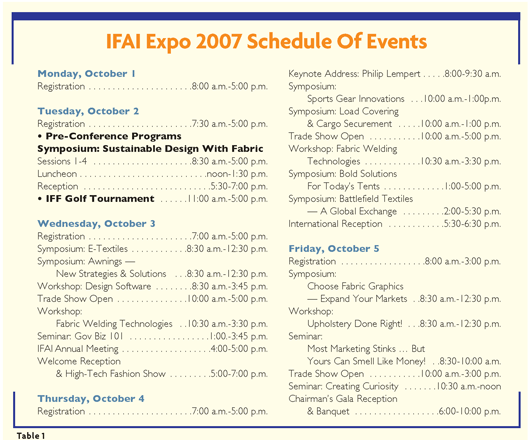 Pre-Show Activities



IFAI Expo 2007 pre-show programs will begin the morning of Tuesday, October 2, with
a symposium entitled "Sustainable Design with Fabric," offered by the Lightweight Structures
Association — IFAI's division representing the lightweight structures industry in the Americas —
and Fabric Architecture magazine. The four-session, day-long program is targeted to architects,
interior and landscape designers, engineers, and textile and manufacturing specialists, among
others.
Warner explained that the symposium's subject matter is a reflection of the state of
the specialty fabrics industry and IFAI members' interest.
"IFAI Expo has evolved as the industry has evolved. This is a very diverse industry
made up of niche markets. Each year we selectively organize special symposiums on the markets and
trends that may be emerging within our industry," he said.
"I just came back from Japan, and the most frequent question I was asked by textile
leaders there was whether we are addressing the issue of designing for the environment. It's a
global 'hot' topic that crosses geographic regions and many of the niche markets that make up our
industry. Sustainable applications range from shade-producing awnings to the use of environmentally
friendly geosynthetics to temporary lightweight structures," he added.
At the symposium, experts in the field will discuss energy-saving ideas and green
building resources, as well as sustainable building trends using fabrics. Architects attending the
symposium will have the opportunity to earn American Institute of Architects/Continuing Education
System credits, and all attendees will have a chance to network during a sponsored lunch and
evening reception.
The Industrial Fabrics Foundation (IFF), the charitable research and educational arm
of IFAI, will hold its second annual golf tournament Tuesday afternoon at the nearby Revere Golf
Club. A percentage of registration fees for the outing will support textile-related scholarships
and research.


Symposiums,Workshops And Seminars



The expo will offer more than 90 speakers at 13 symposiums, workshops and seminars
alongside the trade show. IFAI's Professional Awning Manufacturers Association and Industrial
Fabric Products Review (IFPR) magazine will partner to offer a four-session symposium on new
strategies and solutions for awnings.
E-textiles, or smart textiles, will be covered in a four-session symposium sponsored
by IFAI's Safety & Protective Products Division and IFPR, both of which will also offer a
three-session symposium entitled "Sports Gear Innovations."
IFAI's Professional Awning Manufacturers Association and IFPR will offer a
four-session symposium entitled "Awnings: New Strategies & Solutions."
IFAI's Truck Cover & Tarp Association and IFPR will offer a three-session
symposium entitled "Load Covering and Cargo Securement." IFAI's Tent Rental Division will offer a
three-session symposium entitled "Bold Solutions for Today's Tents," to be followed by a reception
co-sponsored by the division and InTents magazine.
"Battlefield Textiles — A Global Exchange," will be the topic during a three-session
symposium sponsored by the Safety and Protective Products Division, the United States Industrial
Fabrics Institute (USIFI) — also a division of IFAI — and IFPR.
"Choose Fabric Graphics — Expand Your Markets," a four-session symposium dedicated
to applying graphics to fabric — sponsored by IFAI's Fabric Graphics Association and Fabric
Graphics magazine — rounds out the symposium schedule.
"None of these symposiums would have been offered 10 years ago," Warner said,
referring to those covering e-textiles, battlefield textiles and fabric graphics. "As a trade
association representing this industry, we feel it is our responsibility to continue to introduce
these types of programs for our industry … to show new possibilities, new trends, new markets, new
opportunities. When you travel home after our show, you will know that you attended the
industry event of the year."
Workshops will be conducted on a number of topics. Design software sessions will
cover banners and exhibit displays, tents and tensioned structures, and awnings and canopies. A
fabric-welding workshop will be conducted in four sessions that will provide hands-on
fabric-welding demonstrations.
Upholstery Journal magazine, IFAI's Marine Fabricators Association and the online
Professional Upholstery & Soft Furnishings Group will offer "Upholstery Done Right!" — a
workshop on upholstery and interior design techniques using group demonstrations with featured IFAI
Expo 2007 equipment vendors.
Seminars will cover doing business with the government, and emerging market
strategies that will aid businesses in creating excitement about their products and brands.
USIFI and IFPR will sponsor "Gov Biz 101" for attendees who are working with the
government. The seminar will cover such topics as military specifications, hub zones and trade
legislation. "Emerging Market Strategies" will comprise two sessions presenting new solutions for
creating better visibility for a company's brands and products.
In addition, on Wednesday morning, IFAI will offer certification orientation for
industry professionals who wish to learn about testing phases and eligibility requirements of
becoming certified.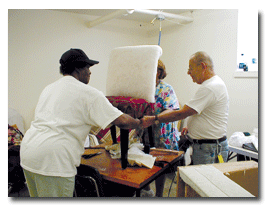 The "Upholstery Done Right!" workshop will include group demonstrations with featured
equipment vendors.


Special Events



In addition to the golf outing on Tuesday, IFF will hold its 5th annual silent
auction throughout the show.
IFAI will hold its annual meeting late Wednesday afternoon. The association will
present an overview of activities conducted over the last year, and elect new officers for the
upcoming year. Winners of the 2007 International Achievement Award competition, now in its 60th
year, will be announced. Awards are given in 28 categories, and include Awards of Excellence and
Outstanding Achievement Awards.
Also at the meeting, in association with IFAI's ongoing Awnings Today consumer
awareness campaign, Rose McKinney, president of Risdall-McKinney Public Relations, New Brighton,
Minn., will discuss growing consumer demand for and awareness of awnings.
A welcome reception and high-tech fashion show will be held Wednesday evening. The
fashion show will feature 24 apparel pieces that incorporate high-tech, high-performance
textiles.
Philip Lempert — an industry expert on consumer behavior, market trends, new
products and the retail environment; noted author and columnist; and founder and editor of Xtreme
Retail23 and Facts, Figures & the Future; among other distinctions — will deliver the expo's
key-note address Thursday morning.
The IFAI International Reception will be held Thursday evening.
The Chairman's Gala Reception and Dinner will conclude the expo Thursday evening.
The event will recognize accomplishments of the past year, recipients of professional
certifications, and new and retiring board members. A slide show of the Achievement Award winners
also will be presented.
Other meetings also will be held during the expo. The Safety & Protective
Products Division will hold its annual meeting Wednesday afternoon, while the Professional Awning
Manufacturers Association will hold its annual meeting Thursday afternoon. The Truck Cover &
Tarp Association and USIFI will conduct business meetings Thursday afternoon, and the Fabric
Graphics Association will conduct its annual meeting Friday afternoon.
---

For more information about IFAI Expo, visit www.ifaiexpo.com. To register for the
trade show, contact Tracie Coopet (651) 225-6947; tkcoopet@ifai.com. To register for symposiums and
workshops, contact Jill Rutledge (651) 225-6981; jmrutledge@ifai.com; or Barbara Connett (651)
225-6914; bjconnett@ifai.com.

---

September/October 2007